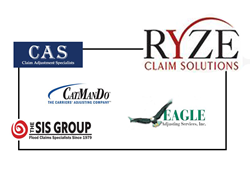 Chicago, IL (PRWEB) April 14, 2016
Highlights:
1) Companies acquired: Eagle Adjusting Services (Eagle), CatManDo, Simsol Insurance Services Group (SIS), and Claim Adjustment Specialists (CAS)
2) Combination of four established, complementary businesses with proven leadership and an extensive history of success providing claim services to the property and casualty (P&C) insurance industry
3) Significant service synergies: Every type of claim, technology-driven, customer service focus, and a large, diverse talent pool
4) RYZE Claim Solutions collectively works with more than 200 clients, utilizing more than 1,000 staff and independent adjusters to process an average of nearly 150,000 claims per year
5) RYZE Claim Solutions represents a powerful, well-capitalized, customer-centric provider of claims solutions with a national geographic footprint
Claims Management Holdings, LLC (CMH), established in 2012, consists of four complementary businesses providing comprehensive loss adjusting, claim processing and claim services to the P&C insurance industry on a national scale. Combining CatManDo, SIS, Eagle, and CAS creates one of the largest and most diverse independent claim services businesses in the U.S.
Each Company Brings Extensive Market Experience with Complementary Capabilities and Proven Leadership

Eagle (Indianapolis) has been a leading force in the claims industry providing both staff and independent adjusters in the national daily and catastrophe claims market for nearly 20 years.
SIS (Tampa) has been focused on adjusting flood claims since 1993 and has built a national network of certified and highly trained flood adjusters.
CatManDo (Tampa) was founded in 2000 and possesses an extensive Florida presence with a focus on Third Party Administrator (TPA) services, Alternative Dispute Resolution and Fraud Detection Services.
CAS (Dallas) has specialized in lender-placed insurance and voluntary daily claims, and Third Party Administration (TPA) services since 1995.
Jim Ratliff of Eagle said, "These four claims industry firms complement each other perfectly and have resulted in the creation of a company able to service clients large and small all over the U.S."
Presenting: RYZE Claim Solutions, LLC.
As part of the reorganization and rebranding completed in early 2016, the combined businesses have become RYZE Claim Solutions, LLC. RYZE provides claim adjusting services to 200+ customers and handles an average of nearly 150,000 claims per year. The Company provides its clients with a national platform utilizing its base of more than 1,000 claim adjusters and services all facets of the claims management process – daily loss adjusting, catastrophic (CAT) claims management, flood adjusting, TPA services, complex claims and various other specialty services.
RYZE aims to leverage its strengths to become the premier claims adjusting company in the U.S. "This is a powerful merger of industry leaders that are clearly very complementary," said Karla Elliott from Eagle. "Each has highly specialized services. In my view, no other company can currently equal our collective strengths."
Said John Postava, of SIS, "Every carrier wants to scale the claims process, use technology to its best advantage, provide the highest customer service, and make more accurate and better decisions. RYZE embraces all of these as deliverables."
RYZE will be unique in the claims industry by providing wide-ranging services with the flexibility necessary to meet changing customer needs. Carriers will be afforded a "one-stop-shop" for the service offering and individualized attention guided by precise standards. "The most impressive aspect of our combined entity is the people involved. We will RYZE to the top of the adjusting world due to the people on our team," said Chuck Ross of CatManDo.
RYZE clients can expect:

Residential and commercial loss adjusting expertise – daily, CAT, flood, TPA and specialty services
Ability to handle CATs and daily claims utilizing a robust, full-time adjuster workforce
Large and complex claim handling
Customized reinspection programs
Alternative dispute resolution, fraud and audit services provided by expert appraisers
Open door policy to senior management
Said CAS' John Devoe, "From large insurance carriers to mutuals, RYZE will deliver customized and individualized services – with better quality work and stronger carrier relationships."
The Company is headquartered in Chicago with offices in Dallas, Indianapolis and Tampa. RYZE will be exhibiting at the PRLB Claims Conference in San Antonio, TX, April 17-20, 2016 at booth #545. Stay connected with RYZE Claim Solutions at its new website .
####
About RYZE
RYZE is an exciting new enterprise built from industry leading businesses, fueled by experienced claims professionals, delivering extensive claims management solutions throughout the entire United States. The company delivers value to clients nationwide, providing a full suite of services and breakthrough performance distinguished by flexibility, reliability and quality at the highest level. http://www.RYZEclaims.com
Contact: Tel. 888-898-RYZE
Email Sales – Jim.Ratliff(at)ryzeclaims(dot)com
General Information – Karla.Elliott(at)ryzeclaims(dot)com