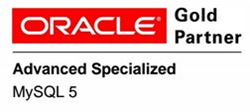 Oracle congratulates Four Cornerstone for successfully achieving this OPN Specialization for MySQL.
Fort Worth, TX (PRWEB) March 29, 2017
Four Cornerstone LLC, one of the fastest growing consulting firms in the enterprise technology field and a Gold level member of Oracle PartnerNetwork (OPN), today announced it has achieved OPN Specialized status for MySQL 5.
To achieve OPN Specialized status, partners must meet a stringent set of product-specific competency and business requirements that are based on the needs and priorities of the customer and partner community. By achieving a specialized distinction, Four Cornerstone has been recognized by Oracle for its expertise in delivering services specifically around MySQL 5 through competency development, business results and proven success.
Specialization can provide customers with confidence that a partner is qualified in the defined product or industry area and able to successfully develop, architect and implement specific solutions.
"Our firm has been an Oracle business partner since its inception in 2004, so to be recognized for this achievement reaffirms our commitment to building long-term relationships with trusted business partners," said Founder and CEO of Four Cornerstone, Hunter Herren. "Achieving OPN Specialization for MySQL 5 not only solidifies our company's expertise in enterprise technology and services, but also confirms our dedicated leadership and focus on client success."
"Oracle congratulates Four Cornerstone for successfully achieving this OPN Specialization for MySQL," said Sharion Wardlaw, Senior Channel Manager, Oracle. "We recognize the effort, resources, and commitment to Oracle products that Four Cornerstone has demonstrated over the years. They are a valuable partner and we look forward to continuing our relationship with them to help our mutual clients be even more successful."
Four Cornerstone has been an Oracle partner for over 13 years with a team of specialized, highly-focused senior technology experts who work towards achieving the best database and application performance. By achieving OPN Specialization, Four Cornerstone is recognized by Oracle Corporation for its expertise in delivering MySQL technology services to numerous customers with a commitment to consistency and tailored solutions at a scale that maintains high levels of availability and performance.
About Four Cornerstone
Four Cornerstone, LLC is known for its agility in delivering services that meet a range of business needs, building long-term relationships with partners and clients, and bringing a sense of urgency in providing uncompromising quality to our customers. Founded over two decades ago as a leading consulting, IT, and professional services' corporation based in Fort Worth, TX, our firm was built on a foundation of wisdom, integrity, skill and customer satisfaction. Senior consultants including project managers, architects, developers, business analysts, database engineers have attained expertise in a wide variety of industries, working with some of the top companies in the world. Our professional team capabilities include Enterprise Database (Oracle & MySQL) consulting services, Oracle Cloud Platform as a Service (PaaS), Custom Applications & Oracle Fusion Middleware, Enterprise Management & Performance, Business Intelligence & Data Warehousing, and more. Among Four Cornerstone achievements include Gold level member of Oracle PartnerNetwork (OPN), OPN Specialization for MySQL 5, A+ BBB Accredited, Dallas Oracle Users Group, and FW Chamber Member.
For more information, visit: https://www.fourcornerstone.com .
About Oracle PartnerNetwork
Oracle PartnerNetwork (OPN) is Oracle's partner program that provides partners with a differentiated advantage to develop, sell and implement Oracle solutions. OPN offers resources to train and support specialized knowledge of Oracle's products and solutions and has evolved to recognize Oracle's growing product portfolio, partner base and business opportunity. Key to the latest enhancements to OPN is the ability for partners to be recognized and rewarded for their investment in Oracle Cloud. Partners engaging with Oracle will be able to differentiate their Oracle Cloud expertise and success with customers through the OPN Cloud program - an innovative program that complements existing OPN program levels with tiers of recognition and progressive benefits for partners working with Oracle Cloud. To find out more visit: http://www.oracle.com/partners.
Trademarks
Oracle and Java are registered trademarks of Oracle and/or its affiliates.
PR Contact
Mallory Bowen, Marketing Associate
(817) 377-1144 ext. 111
Mallory.bowen(at)fourcornerstone(dot)com