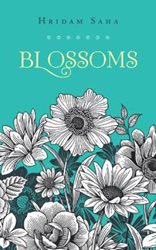 MANAMA, Bahrain (PRWEB) January 28, 2019
For poet Hridam Saha, nature still stirs wonder in all of its splendor. In "Blossoms" (published by AuthorHouse UK), Saha's debut poetry collection, the poet explores and celebrates the maturity of his writing and ability to express himself — exemplifying the miracle of a bud blooming into a beautiful flower. Saha also writes of current social and political issues, hoping to make a positive impact.
The book is divided into three sections: "The Undisguised," which features poems that show the beauty within the bud; "The Blossoms," which explores the beauty in flowers just before they bloom; and "The Bridge," which captures the transition. Saha hopes the book will resonant with young readers and remind older readers of their own childhood and development.
"The book articulates how a growing child sees the world around him. The words and thoughts change as the child grows to an adolescent," says Saha. "It's not a 40 year old trying to capture the imagination of a 4 year old. Raw thoughts and words have come from deep within a child's heart and mind. Then the transition as a child grow to an adolescent. The unmasked experience which has hardly been explored before."
A video of Hridam Saha reading his poem "Cursed or Blessed" at Bahrain Writers Circle:
https://www.youtube.com/watch?v=0Rn2di24dcg
"Blossoms"
By Hridam Saha
Softcover | 5 x 8 in | 58 pages | ISBN 9781546299172
E-Book | 58 pages | ISBN 9781546299110
Available at Amazon and Barnes & Noble
About the Author
Hridam Saha is a 14-year-old poet and presently studying at the New Millennium School of Bahrain. Originally from India, he has been living in Bahrain since 2010. He has been writing poetry since he was 7.