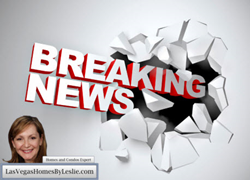 I'm interested in how the market and city will be portrayed. It's certainly another sign that the Las Vegas real estate market has turned around
Las Vegas, NV (PRWEB) July 09, 2015
Look out HGTV! Top Vegas Realtor Leslie Hoke is reporting from her popular website and blog Las Vegas Homes By Leslie that Fox News is dipping its toe into real estate programming with a new program titled "Bob Massi is the Property Man." The show is set to debut Saturday, July 11 at 12 p.m. eastern time. Local Las Vegas realtors are excited about the show regardless if they are viewers of the polarizing network or not.
"The show is dedicated to highlighting business owners and property owners who were affected by the real estate market crash, and how, with the help of real estate and law expert Massi, ultimately find real estate redemption. Everyone loves a redemption story whether you like Fox News or not," said Las Vegas Homes By Leslie owner Leslie Hoke.
Bob Massi has served as a Fox News legal analyst since 1998, and is said to be knowledgeable in real estate law. In addition to the redemption stories, the show will also feature a host of experts opining on Las Vegas real estate market trends. Massi will also accompany perspective homebuyers on their search for the perfect dream home in Las Vegas.
"I'm interested in how the market and city will be portrayed. It's certainly another sign that the Las Vegas real estate market has turned around," said Hoke.
To read more about the show, and to learn more about Las Vegas Real Estate, visit Las Vegas Homes By Leslie at:
http://www.lasvegashomesbyleslie.com/blog/fox-news-to-debut-las-vegas-real-estate-show.html
About Leslie Hoke
Leslie Hoke is a seasoned Top Vegas realtor with over 11 years of experience buying and selling real estate in southern Nevada. After a successful tenure at the Disney Corporation, Leslie moved to Las Vegas to pursue her goal of a successful career in real estate.
Leslie has earned several industry awards and accolades including being named "Top Las Vegas Realtor" by RE/MAX four consecutive years (2011-2014). Ms. Hoke is a member of the Greater Las Vegas Association of Realtors and National Realtor Association with certifications in short selling, condominiums, and new homes for sale in Las Vegas. She is known for her excellent customer communication, savvy marketing strategies, and top-notch negotiation skills. As a long-time Las Vegas resident herself, Ms. Hoke provides a wealth of local market information to help her clients reach their real estate needs.
Las Vegas Homes By Leslie
8010 W Sahara Ave #150, Las Vegas, NV 89117
(702) 321-1763