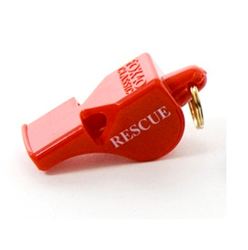 Perfect for Lifeguarding or other rescue operations.
Los Angeles, CA (PRWEB) July 31, 2014
When a lifeguard has to signal danger or enforce a rule, it is important that the lifeguard is heard loud and clear. Especially if danger is upon swimming patrons, a lifeguard having a good working whistle can save a life. Lifeguard Master, the popular lifeguard supply company, has introduced the popular Fox 40 classic safety whistle that is to satisfy the lifeguards needs.
The whistle has the word "RESCUE" written clearly on the side and is available in black, red, or blue. The whistle is pea-less meaning that to make a loud and clear sound, it does not rely on any other piece other than the outer shell of the whistle itself. The Fox 40 Lifeguard Rescue Whistle can be heard over water and long distances, making it the perfect tool for pool and beach environments.
Especially because beach or pool areas can be loud and noisy, it is important to have a lifeguard whistle that can easily be heard over common commotion to get the attention of people around the lifeguard. A high-quality lifeguard whistle such as the Fox 40 can literally save a life or prevent serious injury.
Vince from Lo Jolla, California says, "My friend and I dressed as lifeguards at a hotel rooftop party. The outfits were a huge success everyone was loving them. While on the 10th floor balcony to our room, my friend dropped the whistle over the edge. He then went down and retrieved it blowing the whistle signaling that it was intact. Three cheers to your indestructible whistles!"
By a swimmer hearing the whistle, lifeguards can easily communicate if there is some kind of danger whether it be thunder, dangerous animals, or if any other kind of evacuation is needed.
Lifeguard Master sells whistle straps separately allowing lifeguards to have either lanyards or breakaway straps. A selection of whistles are available on Lifeguard Master including a classic whistle and a standard lifeguard whistle. The Fox 40 Rescue Whistle is by far the highest quality and longest-lasting due to its unique design.
"This is the loudest pealess whistle you can buy. I carry one between my teeth while riding my bicycle. They are great," says a customer from Tucson, Arizona about the lifeguard whistle.
When a lifeguard is on duty, it is almost as if he or she owns the area since he or she is in charge of the safety of patrons. Because of this, a lifeguard must always be alert and always be on the lookout for danger headed their way. When a whistle is blown at one patron, it alerts others around them as well that the lifeguard is the one on duty and in charge of their well being, making them more willing to comply with this authority.
Hearing the sound of a lifeguard blow their whistle can stop a tragedy or situation from occurring. Because of this,the lifeguard whistle is one of the most important tools for a lifeguard to carry with them. Although patrons are at the pool or beach to have fun, a lifeguard helps others listen and comply to the rules and standards of the area for everyone's safety and well being.
A whistle is much more than a piece of plastic that makes a loud and crisp noise, it is a symbol of alertness and caution when used correctly. By having a loud and effective FOX 40 rescue whistle, lifeguards can concentrate on other aspects of watching their post rather than trying to be heard by the right people or getting their whistle to work.
To visit Lifeguard Master's sister site, please visit http://www.lifeguardshirt.com/fox40whistle These whistles can also be found on ebay. Please click on: FOX 40 rescue whistles.
Lifeguard Master has been in the emergency and life saving industry for many years. Sammy, the owner and founder of Lifeguard Master has been a lifeguard himself for 7 years. He knows the importance have having all the equipment readily available for a first responder, and through the years Lifeguard Master has become a robust lifeguard supply and lifeguard store company, accommodating the anticipating needs of first responders around the country and around the world. Lifeguard Master's determination to excellence and rescue safety has quickly made it a leader in its industry. For more information, please give us a call, send us an e-mail or visit our website. Also to stay updated with the latest news in emergency supplies, please visit our forum where rescue professionals from around the country and world stay connect, and post the latest emergency news at LifeguardsOnline.com.
Sammy
Lifeguard Master
(714) 605-3090
http://LifeguardMaster.com