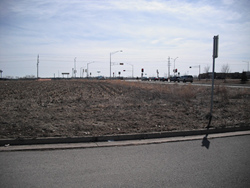 Appleton, WI (PRWEB) April 29, 2014
Two vacant lot properties near one of the most popular shopping areas in Wisconsin are now available for purchase ahead of a highly anticipated May 31 auction on Micoley.com.
The lots are in a highly visible location on Wisconsin Avenue, near a hub of restaurants, entertainment facilities, day spas, hotels and large retails stores within and around the Fox River Mall. Indeed, the Greater Appleton area, colloquially referred to as the Fox Cities, is known as the go-to shopping destination in Northern Wisconsin. Anchored by the 1.2 million square-foot Fox River Mall, the area boasts a daytime population of over 70,000.
Located less than two miles away from U.S. Highway 41, lot number 100381 is 2.01 acres with a list price of $645,000 and an opening bid of $450,000. The second lot, number 100382 features 5.5 acres, with a list price of $715,000 and an opening bid of $467,500. Both parcels head to the online auction block on May 31, 2014 and can be purchased together or separately. "We are very excited and anxious to see what the future buyer of this property will develop the land into. The opportunities are endless in a prime location such as this," stated Wade Micoley, President and CEO of Micoley.com.
Appleton has seen an increased interest from commercial developers in the past six month looking to take advantage of the highly trafficked retail hotspot. In December, real estate developer Bob Gregorski nabbed the former Paradise Club property, a high profile commercial spot just off of Highway 41 next to the Fox River Mall, ahead of its buzzed-about auction, which was also conducted by Micoley.com. Gregorski purchased the property with a final accepted offer of $775,000.
This vacant land on Micoley.com promises an excellent location for commercial usage due to its proximity to the Fox River Mall, which is less than one mile away. Lot 100381 features road frontage on W. Wisconsin Avenue, N. McCarthy Road, and W. Schroth Lane.
Considering the area houses such a wide range of residents and sees attention from people all across the state, it is a safe bet that a well-advertised business near such retail activity would be a profitable opportunity. The team at Micoley.com employs a hybrid strategy specializing in helping buyers with high potential properties just like this one.
Interested parties should visit micoley.com to find more photos and details about the property, or by visiting in person and performing an inspection on site, which is highly recommended. (866) 371-3619 is Micoley.com's information line. Additionally, Micoley.com features a live chat service through which questions can be answered.
About Micoley.com:
Green Bay, Wisconsin-based is a real estate marketing firm specializing in project focused auctions of bank-owned and private properties throughout the United States. The Micoley.com approach to real estate marketing tailors each auction plant to the client's individual needs. The site is constantly being updated for the benefit of the buyers, as large scale auction events are held monthly. Auctioneer Firm: Micoley.com LLC #432-53. Auctioneer: Wade T. Micoley #2647-052. Broker Firm: WM Enterprises, Inc #835181-91. Broker: Wade T. Micoley #43427-90.