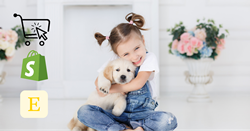 eCommerce growth is accelerating at a truly rapid pace. According to Nasdaq Market Insights, eCommerce has not only grown steadily the past two decades, moving from niche to norm, but it's also experiencing rapid growth due to post-pandemic changes in consumer behavior.
TAMPA, Fla. (PRWEB) July 15, 2021
Foxhound LLC, a digital marketing company has recently released the top five reasons eCommerce continues to grow. This incredible growth will impact digital branding and marketing for years to come, according to the company.
eCommerce growth is accelerating at a truly rapid pace. According to Nasdaq Market Insights, eCommerce has not only grown steadily the past two decades, moving from niche to norm, but it's also experiencing rapid growth due to post-pandemic changes in consumer behavior. In 2020 alone, the eCommerce market sector grew by over 15%.
Some predicted that consumer purchasing behaviors would return to pre-pandemic norms. However, it seems that the lockdowns have had a lasting effect on purchasing habits. According to the Harvard Business Review, 43% of consumers are still buying more online than they did before the pandemic.
Why is the eCommerce space continuing to grow? There are several factors that contribute to its marked flourishing.
Here are the top five reasons, according to Foxhound LLC, that eCommerce growth is showing no signs of stopping soon.
1. Targeted social media advertising strategies are becoming more sophisticated
Seth Godin wrote about the death of mass media advertising in his seminal marketing book, Purple Cow, over a decade ago. He predicted the shift to effective niche advertising. This shift has already taken place, in a large part due to the cheap and accessible nature of social media advertising.
"The ROI on social media advertising can really be quite outstanding when compared to other platforms leveraging PPC," Samuel Knox, owner of Galactic Pets, an up-and-coming eCommerce pet store, explained. "The shift to providing valuable content rather than simply pushing disruptive advertising has also greatly impacted the advertising space. Companies are getting smarter about building an audience rather than simply pushing a product."
2. Social distancing measures greatly accelerated online purchasing
When COVID hit, many lockdowns followed. As a result, many people turned to digital shops to purchase goods. Amazon hit a record in profits following the deluge of online orders. Leisure shopping has shifted into the digital space. Even during this recovery period, the growth of online shopping is growing.
Worries of subsequent waves and social anxiety may be fueling this transition. Still, some shoppers simply prefer staying at home and feel there is less stigma in being introverted post-pandemic.
3. Platforms like Shopify and Etsy are expanding their userbases
Platforms like Shopify and Etsy have invested heavily in retaining a loyal customer base of independent business owners. They have kept costs low for both burgeoning entrepreneurs and established store owners, helping to fuel greater participation in the eCommerce space. As a result of their smart business strategies and pro-consumer policies, they have seen a rapid increase in their userbases. Both companies are scaling quickly yet sustainably. Intelligently, both companies have invested in secure online transactions as well, giving end consumers greater peace of mind when transacting online with new, small brands.
"Shopify is a uniquely powerful player in the eCommerce space," Samuel Knox said. "Galactic Pets, our unique pet store brand, has grown tremendously thanks to the ease-of-use, customizability, and compatibility with third-party applications. Shopify allows independent brands like ours to scale sensibly and launch with an affordable overhead."
4. Consumer purchasing behaviors are trending toward eCommerce
Looking at the raw data, consumers are beginning to prefer online transactions. While there were many who predicted that this shift would be strictly temporary, it seems there is more to the story than we initially thought. Consumer behavior has not simply retreated to pre-pandemic averages.
For example, according to the Harvard Business Review, it seems that US infrastructure is to blame for some of the shift. With deteriorating roadways comes decreased demand for in-person shopping, greatly impacting the future of eCommerce.
"The fact is that most people, regardless of age, still prefer shopping for essentials in person. But for older generations, physical storefronts are especially important. But with 85 percent of shoppers planning to maintain or increase their online spending in the coming months, you might wonder why so many stores are set on retaining their physical space," writes the Adobe Customer Insights team.
5. Digital branding is driving click-and-mortar growth
Many consumers are not only shopping online more frequently, but they also plan to increase the amount they shop online. The reasons for this are myriad. It's important to note that as online experiences become more visceral and more emotionally driven, the preference for online shopping will likely continue to increase.
"Our brand has always been the most important aspect of our marketing strategy," Samuel Knox continued about Galactic Pets. "We want to give customers a real online experience that speaks to them. For the fun, future-forward pet owner, we provide a best-in-class experience."
Conclusion
The pandemic has changed our society in ways we do not completely comprehend. One of the most obvious effects of social distancing is the decreased participation in in-person shopping, which has in part, fueled the accelerated growth of eCommerce. However, there are several other factors at play.
Increasingly sophisticated social media and online brand strategies, the continued growth of independent eCommerce platforms like Shopify and Etsy, and post-pandemic consumer behavior changes are further accelerating eCommerce growth.