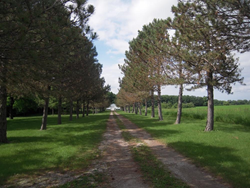 Green Bay, WI (PRWEB) November 13, 2014
A 65.8-acre parcel of land has become available along eastern Wisconsin's Fox River near Green Bay in the Fox Valley area for commercial investors searching for an impeccable parcel of land for investment, or for someone looking for a place to build their dream home. With over 2,000 feet of shore-land, the parcel has considerable water frontage, and is even located near a dam, in addition to being situated just minutes from Green Bay and Appleton.
The options of what to build on the property are endless -- every option is available. Use it for buildable sites, development, or even hunting. Two metal storage buildings are already included. Land this large, with this much water frontage on the Fox River, is nearly impossible to come by in an auction, and at this kind of price. The property is currently listed at $2.4 million with an opening bid of $1.75 million if no offer is received by the November 22 auction.
The Fox River connects several cities and areas of Wisconsin, including Oshkosh, Neenah, Menasha, Appleton, Little Chute, Kimberly, Combined Locks, and Kaukauna. With the exception of Oshkosh, these cities refer to themselves as the "Fox Cities." Currently, the area is a major player in paper production, with 24 paper and pulp mills along the Fox River employing some 50,000 people. But the major hub of entertainment and culture in the area is the city of Green Bay, which lies to the north and east of the property, which has an address of 65.8 Acres County Rd ZZ DePere, WI 54115.
The highly motivated sellers of this property have indicated that they plan to entertain early bids and offers. Buyers are most likely already researching this property, and coming to decisions about whether to make a purchase, so potential buyers are advised to act fast.
Interested parties should visit micoley.com to find more photos and details about the property, or visit in person and perform an inspection on site, which is highly recommended. (866) 371-3619 is Micoley.com's information line. Additionally, Micoley.com features a live chat service through which questions can be answered.
About Micoley.com:
Green Bay, Wisconsin-based Micoley.com is a real estate marketing firm specializing in project focused auctions of bank-owned properties throughout the United States. The Micoley.com approach to real estate marketing tailors each auction plan to the client's individual needs. The site is constantly being updated for the benefit of buyers, as large-scale auction events are held monthly, and new properties are added daily. Auctioneer Firm: Micoley.com, LLC #432-53. Registered Wisconsin Auctioneer Wade T. Micoley #2647-052. Broker Firm: WM Enterprises, Inc. #835181-91 and Broker Wade T. Micoley #4327-90.