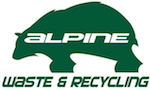 Out of the dozens of applications from the U.S. and Canada, we were particularly impressed with Alpine's thoughtfulness and plans for the future.
Falls Church, Va. (PRWEB) May 14, 2015
Many residents and commercial companies in the Denver Metro area will soon be able to add polystyrene foam foodservice packaging, egg cartons, meat trays and protective packaging to their recycling bins, thanks to a $45,000 grant from the Foam Recycling Coalition.
Alpine Waste & Recycling of Commerce City, Colo., is the first recipient of the recently launched North American funding program designed to increase the collection, processing, and marketing of post-consumer polystyrene foam. Alpine will use the grant money to purchase equipment that compacts (densifies) polystyrene foam into bricks, making Alpine the first company in Denver to provide foam recycling services.
Alpine is the largest independent, privately held waste and recycling company in Colorado. It is vertically integrated with a fleet of more than 80 collection vehicles and 220 employees; plus a recycling facility (the second largest in the state); composting collection and operations; and a landfill.
"Out of the dozens of applications from the U.S. and Canada, we were particularly impressed with Alpine's thoughtfulness and plans for the future," said Lynn Dyer, president of the Foodservice Packaging Institute, which houses the coalition. "Alpine recognized the value and benefit of adding polystyrene foam to their already successful recycling program."
"Alpine Waste & Recycling prides itself on its culture of innovation, and this opportunity to recycle foam foodservice and protective packaging is certainly an industry-leading moment," said Brent Hildebrand, vice president-recycling for Alpine. "It allows us to respond decisively to the wishes of consumers who have long sought an opportunity to recycle this material."
Hildebrand said Alpine will work immediately on a structure of operations that will encourage companies and organizations in the Denver area to provide foam to the Altogether Recycling Plant, a division of Alpine.
The grant is made possible through contributions to the Foam Recycling Coalition, which focuses exclusively on increased recycling of post-consumer polystyrene foam. Its members include Americas Styrenics; Cascades Canada ULC; CKF Inc.; Chick-fil-A; Commodore; Convermex; D&W Fine Pack; Dart Container Corp.; Dolco Packaging, A Tekni-Plex Company; Dyne-A-Pak; Genpak; Hawaii Foam Products; NOVA Chemicals Corp.; Pactiv Foodservice/Food Packaging; Shell Chemical LP; Styrolution America; and TOTAL Petrochemicals & Refining USA. Additional support of the coalition comes from the EPS Industry Alliance.
The coalition will continue to offer grants that promote foam recycling in residential curbside, drop-off and commercial programs. Additional grant recipients will be announced later this spring. More information about foam recycling is available at http://www.fpi.org/recyclefoam.
# # #
ABOUT FPI: Founded in 1933, the Foodservice Packaging Institute (FPI) is the leading authority for the North American foodservice packaging industry. FPI encourages the responsible use of all foodservice packaging through promotion of its benefits and members' products. Serving as the voice of the industry to educate and influence stakeholders, FPI provides a legal forum to address the challenges and opportunities facing the foodservice packaging industry. Members include foodservice packaging manufacturers and their raw material and machinery suppliers, restaurants, grocery and convenience stores, distributors and nearly 50 school districts, colleges and universities. Learn more at http://www.fpi.org.
ABOUT FRC: The Foam Recycling Coalition (FRC) was formed under the Foodservice Packaging Institute in 2014 to support increased recycling of foodservice packaging made from polystyrene foam. FRC shares general information on foam recycling, provides technical resources and offers funding assistance to programs ready to start or strengthen post-consumer foam recycling. Members include stakeholders from throughout the foodservice packaging value chain. Learn more at http://www.fpi.org/stewardship.