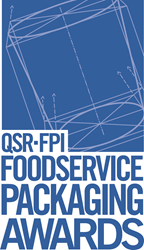 Over the years, we've seen hundreds of submissions, and we look forward to seeing this year's nominations that showcase innovation and excellence.
Falls Church, Va. (PRWEB) June 20, 2017
Nominations are now being accepted for the bi-annual Foodservice Packaging Awards competition to honor excellence and innovation in foodservice packaging. The Foodservice Packaging Institute and QSR magazine kick off their ninth competition with revised award categories to better serve the industry.
In addition to the overall "Foodservice Package of the Year" designation, awards will be given in the following five categories:

Excellence in Brand Delivery: For excellence in the use of graphics or graphic design elements on packaging to promote brand recognition.
Excellence in New Menu Launch: For excellence in packaging that supports the launch of a new menu item.
Innovation in Convenience: For innovative features that make packaging easier to use and / or more convenient for the consumer and / or foodservice workers.
Innovation in Manufacturing: For raw material, machinery and / or converting innovations that enhance packaging.
The "Wow" Factor: For packaging with that extra "wow" effect when consumers or foodservice operators use or see this item.
"We continue to see more and more innovation in packaging — from the materials being used, to new and exciting product designs," said Lynn Dyer, president of FPI. "Over the years, we've seen hundreds of submissions, and we look forward to seeing this year's nominations that showcase innovation and excellence."
A panel of industry experts in design, merchandising, manufacturing and product stewardship will judge the entries. FPI will honor the winners during the association's Fall Conference, October 26 in Dallas. QSR will feature the results in its November 2017 issue.
The top winners from each category will be eligible to win the coveted award of "2017 Foodservice Package of the Year." Previous winners include Eco-Products, Inc., for its stackable Folia take-out containers made with 100-percent renewable and reclaimed resources, and Culver's for its "Family Farm Fresh" take-out bags inspired by local scenery and designed for brand promotion and social awareness.
Foodservice packaging manufacturers, their suppliers, foodservice operators, distributors, public relations firms and others are encouraged to enter the free competition by nominating themselves or others. For more information and to submit entries, please visit QSR magazine's website.
ABOUT FPI: Founded in 1933, the Foodservice Packaging Institute is the leading authority for the North American foodservice packaging industry. FPI encourages the responsible use of all foodservice packaging through promotion of its benefits and members' products. Serving as the voice of the industry to educate and influence stakeholders, FPI provides a legal forum to address the challenges and opportunities facing the foodservice packaging industry. Members include foodservice packaging manufacturers and their raw material and machinery suppliers, restaurants, grocery and convenience stores, distributors and nearly 50 school districts, colleges and universities. Learn more at http://www.fpi.org.