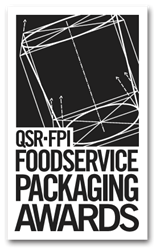 Culver's is an innovative example of combining packaging with a cause to raise awareness and communicate a brand narrative.
Falls Church, Va. (PRWEB) November 06, 2015
A new take-out bag inspired by local scenery and designed for brand promotion while raising social awareness won the top honor at the 2015 Foodservice Packaging Awards, held by the Foodservice Packaging Institute and QSR magazine.
Culver's received the "2015 Foodservice Package of the Year" for its new "Family Farm Fresh" take-out bags. Inspired by Culver's "Thank You Farmers" program, the "barn blue" bags act as a mobile billboard for the Midwestern restaurant chain. Culver's combined packaging with a cause to raise awareness about issues facing today's farmers in an effort to lead conversations that matter to customers.
"While previously overlooked, we are seeing restaurants pay more attention to their foodservice packaging — which isn't surprising since Americans now spend 50 percent of their food budget in restaurants," said Lynn M. Dyer, president of FPI. "Culver's is an innovative example of combining packaging with a cause to raise awareness and communicate a brand narrative."
For 15 years the trade association and trade publication have partnered in these bi-annual awards to recognize innovation in the foodservice packaging industry. This year's entries reflect growing trends in both the packaging and restaurant industries, including customization and sustainability.
Judges reviewed entries based on innovation in brand delivery, convenience, performance, sustainability and the "wow" factor. Top award winners in each category include Culver's, Eco-Products, Inc., WNA, Inc., BIOTREM / Jerzy Wysocki, and Teriyaki Madness.
Award recipients will be recognized during FPI's fall meeting and featured online. A full listing of award winners may be found on QSR's website.
ABOUT FPI: Founded in 1933, the Foodservice Packaging Institute is the leading authority for the North American foodservice packaging industry. FPI encourages the responsible use of all foodservice packaging through promotion of its benefits and members' products. Serving as the voice of the industry to educate and influence stakeholders, FPI provides a legal forum to address the challenges and opportunities facing the foodservice packaging industry. Members include foodservice packaging manufacturers and their raw material and machinery suppliers, restaurants, grocery and convenience stores, distributors and nearly 50 school districts, colleges and universities. Learn more at http://www.fpi.org.