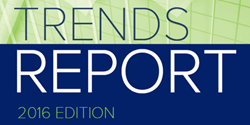 As such a large, influential piece of the population, the opinions and ideals of millennials are a defining factor, leaving an impression on the industry.
Falls Church, Va. (PRWEB) November 15, 2016
This year's 2016 Trends Report from the Foodservice Packaging Institute revealed key industry shifts that focused on industry changes being driven by the generational influence of millennials.
"Each year our Trends Report searches for common threads found throughout the entire foodservice packaging value chain. This year more than ever, it's hard to deny the influence of the millennial generation on the foodservice packaging industry," said Lynn Dyer, FPI's president. "As such a large, influential piece of the population, the opinions and ideals of millennials are a defining factor, leaving an impression on the industry."
Millennials desire food that is increasingly convenient and less time-intensive. Responses this year showed an uptick in the grab-and-go sector. Ordering online, through mobile applications or via automated in-store ordering stations is increasingly popular, partially due to millennials' "text rather than talk" preference. Meal delivery programs are gaining traction, too, requiring new and innovative foodservice packaging.
Changes in preparation and distribution of meals are driving other trends, such as an increased interest in tamper-evident packaging and food safety. Tamper-evident packaging offers a visible solution for foodservice operators and their customers concerned about the integrity of their foods and beverages.
This year's report also highlights the fact that "environmentally-friendly," "sustainable," "recyclable" and "compostable" packaging are moving beyond trendy to now being a regular part of doing business. "Light-weighting" and mineral filler usage is gaining interest, which can help both environmental and economic goals of companies and consumers alike.
Another key industry shift revealed in the survey is the common concerns addressed across multiple industry segments. Foodservice packaging sectors are communicating more with each other, thus paying more attention to the similar links, challenges and opportunities in the entire supply chain.
"The increasing communication and collaboration between the supply chain partners will result in the continued evolution of the foodservice packaging industry to better support the needs of foodservice operators and their customers — no matter who they are today and in the future," Dyer said.
Now in its eighth year, the Trends Report is FPI's response to dozens of requests received throughout the year from media, analysts, conference organizers and others about the latest industry happenings. The FPI survey, sent to members in September, collects opinions from companies throughout the foodservice packaging supply chain, including raw material and machinery suppliers, packaging manufacturers, distributors and operators. The first section compiles direct comments and insights by industry players. The second section provides high-level trends in the foodservice packaging industry based on FPI staff analysis of member submissions, as well as FPI's general industry observations and newsletter entries.
The Foodservice Packaging Institute 2016 Trends Report is complimentary to FPI members. Non-members may view an executive summary online under FPI's publications and reports. Please contact FPI Vice President Natha Dempsey at ndempsey(at)fpi.org for more information.
ABOUT FPI: Founded in 1933, the Foodservice Packaging Institute is the leading authority for the North American foodservice packaging industry. FPI encourages the responsible use of all foodservice packaging through promotion of its benefits and members' products. Serving as the voice of the industry to educate and influence stakeholders, FPI provides a legal forum to address the challenges and opportunities facing the foodservice packaging industry. Members include foodservice packaging manufacturers and their raw material and machinery suppliers, restaurants, grocery and convenience stores, distributors and nearly 50 school districts, colleges and universities. Learn more at http://www.fpi.org.