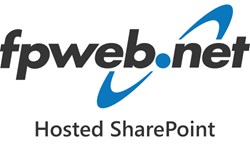 The Fpweb.net Service Suite is designed to relieve your business of the heavy lifting that comes with SharePoint while customizing your SharePoint experience to bring the biggest benefits to your business.
St. Louis, MO. (PRWEB) September 17, 2013
Fpweb.net, a global SharePoint hosting provider, has found a new way to add value to their customers' SharePoint environments. The Fpweb.net Service Suite gives old and new customers the opportunity to bolster their private cloud hosting solution by leaving Fpweb.net in the Administrator role. This turn-key approach to SharePoint will allow businesses to benefit from the collaboration and workplace productivity that makes SharePoint shine without worrying about the maintenance, support, and now administration.
From deployment to security to applications, the Fpweb.net Service Suite creates and builds out the platform's many faces to your preferences and then gives you the access to manage those settings from top to bottom as needed. The Service Suite privileges include Post Installation Administration, General SharePoint Administration, Central SharePoint Administration, Active Directory and more.
"This is a great success story of a product that our customers have expressed a need for and we've been happy to present to them," said Fpweb.net President, Chris Schwab. "Adding this service allows us to provide a more customized experience for our customers and give them exactly what they've been looking for. The goal of Fpweb.net has always been to host SharePoint the way you want, and the new Service Suite is designed to make your businesses' life easier."
The Fpweb.net Service Suite promises to be the turn-key SharePoint solution that businesses have been looking for. At its heart, the product harnesses your SharePoint and Fpweb.net's Administration, removing the IT hassle and replacing it with a seamless, enhanced SharePoint experience.
To learn more about Fpweb.net's Service Suite, visit http://www.fpweb.net/service-suite/.
About Fpweb.net
Fpweb.net is a premier SharePoint Hosting provider that expertly manages and supports your SharePoint from start to finish so you're free to focus on the next big thing for your business. Increase your company's IT agility by bringing the emphasis back on innovation! Leave the backups, monitoring, server patching, support and even the administration to our SharePoint experts. For more information, please visit http://www.fpweb.net.