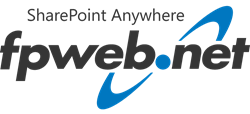 When you outsource complicated aspects of your support and/or maintenance to an experienced hosting provider, it makes the eventual and unavoidable move to the cloud relatively seamless.
St. Louis, MO (PRWEB) August 20, 2014
Fpweb.net, a global SharePoint hosting provider, has added a new service to its arsenal. Keeping with their mission to add value to their customers' SharePoint, Fpweb.net takes a big step with their latest SharePoint solution that makes their five star customer-rated support and expertise available regardless if it is hosted in Fpweb.net's private cloud, left in an on-premises data center, or placed in a hybrid environment.
Fpweb.net's "SharePoint Anywhere" showcase is headlined by a managed SharePoint on-premises solution for businesses. This service caters to organizations that currently struggle with maintaining and upgrading their environment or lack a team dedicated to the complicated platform and need a cost-effective solution for their in-house deployment. Fpweb.net's managed services place a full team of specialists at your disposal 24/7 to handle backups, patching, monitoring, site design and functionality, upgrades, support and more.
"After hearing from countless customers and potential customers that they would like us to not only manage their hosted infrastructure but also handle the daily hassles of their on-premises environment, we realized that saying 'this is not a service we offer' was no longer acceptable in this market," said Fpweb.net's Vice President of Marketing and Business Development, Ellie Dupuis. "Now after a an extensive research and development process, we are thrilled to offer the side-by-side support these on-premises SharePoint environments need to function properly, as well as the hybrid services and long term cloud migration plans that customers have been asking for."
This service will help organizations navigate their short or long term path to a hybrid environment and provide the resources required to smooth an eventual transition to the cloud. By strengthening their infrastructure with a certified team of SharePoint experts from Fpweb.net, companies are free to focus on their core business.
To learn more about Fpweb.net's SharePoint Anywhere solutions including the new managed SharePoint on-premises offering, please visit http://www.fpweb.net/on-premises-management.
About Fpweb.net
Fpweb.net is a premier SharePoint Hosting provider that expertly manages and supports your SharePoint wherever it may live from start to finish so you're free to focus on the next big thing for your business. Increase your company's IT agility by bringing the emphasis back on innovation! Leave the backups, monitoring, server patching, support and even the administration to our SharePoint experts. For more information, please visit http://www.fpweb.net.