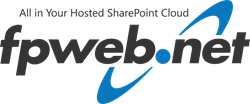 Fpweb.net utilizes Authorize.net to protect each customer's information and make every online purchase a secure, worry-free transaction.
St. Louis, MO (PRWEB) October 28, 2013
Fpweb.net, a global SharePoint hosting provider, has introduced a new feature on http://www.fpweb.net that lets customers get an instant quote on SharePoint Foundation Hosting and securely purchase the plan online. The latest release will improve the information turnaround for customers, displaying Fpweb.net's new, lowered pricing instantly and making it possible to purchase online. The result will mean a faster turnaround for services as well since Fpweb.net begins architecting the environment immediately after receiving the online payment confirmation.
Fpweb.net, who has made it their business to continue bringing value to their customers' SharePoint environment, now allows each business to choose which SharePoint version they are interested in along with the amount of disk space they require and presents an estimated price instantly. You can even change your billing options and receive discounts before purchasing. Custom quotes are still readily available for those who require more information and are available by contacting Fpweb.net.
"We're very happy to provide simplified pricing and plans for any business," said Fpweb.net's Vice President of Sales, Jesse Roche. "Businesses want the instant gratification that comes with quick cost estimates and the ease-of-purchase online that this site allows. We think our customers will enjoy the speed with which they can make secure purchases online as well as the speed with which they will have their SharePoint environment delivered to them."
The new pricing and purchasing features are only available for SharePoint Foundation plans. Customers looking for SharePoint Server plans can find the custom plan that fits their business through a free SharePoint consultation with Fpweb.net.
To try out Fpweb.net's new plans and lowered pricing, visit https://www.fpweb.net/sharepoint-hosting/hosted-sharepoint-plans-and-pricing/.
About Fpweb.net
Fpweb.net is a premier SharePoint Hosting provider that expertly manages and supports your SharePoint from start to finish so you're free to focus on the next big thing for your business. Increase your company's IT agility by bringing the emphasis back on innovation! Leave the backups, monitoring, server patching, support and even the administration to our SharePoint experts. For more information, please visit http://www.fpweb.net.