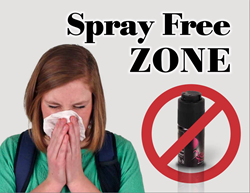 School buildings can contain harmful contaminants and chemicals that impede learning and overall health.
Pittsburgh (PRWEB) May 14, 2014
Women for a Healthy Environment (WHE) announced today the launch of its Fragrance-Free Schools Toolkit during the month of May, National Asthma and Allergy Awareness Month. The toolkit has been designed to raise awareness and provide tools, tips and resources for school district personnel, parents and other caregivers in creating a healthy school environment free from fragrances and other harmful chemicals that reduce indoor air quality.
"More than 53 million children and 6 million adults in America spend significant amounts of time in more than 120,000 school buildings across the country," said Michelle Naccarati-Chapkis, executive director, Women for a Health Environment. "School buildings can contain harmful contaminants and chemicals that impede learning and overall health."
Studies have shown that certain cleaning products used in the school setting, such as industrial-strength cleaning products and room deodorizers/air fresheners, contain chemicals identified as potential asthmagens (triggers of asthma symptoms), allergens, pre-carcinogens and air contaminants. In recent years, consumer products such as colognes, perfumes and body sprays have also been found to contribute to poor indoor air quality and human health impacts. According to the Centers for Disease Control and Prevention (CDC), asthma is a leading chronic illness among children and adolescents in the United States. Fragrance has been identified as an asthma trigger.
The toolkit includes a reference guide, PowerPoint presentation, posters for personnel to post in schools and activities for students to become more familiar with the harms associated with using fragranced products. The toolkit is made possible by a grant from Highmark Foundation.
"The Highmark Foundation and Women for a Healthy Environment have a history of partnering on Fragrance Free activities that educate the public about the effects of fragrances in schools, homes and communities through online school toolkits, webinars and public events," said Yvonne Cook, president, Highmark Foundation. "With this grant for school toolkits, WHE seeks to increase awareness among educators, parents and other caregivers of ways to avoid negative health effects and improve indoor air quality in the school setting by reducing the use of products that contain fragrance," she added.
To download the fragrance-free "school-kit" and more information, visit http://www.WomenForAHealthyEnvironment.org.
About the Highmark Foundation
The Highmark Foundation is a private, charitable organization of Highmark Inc. that supports initiatives and programs aimed at improving community health. The Foundation's mission is to improve the health, well-being and quality of life for individuals who reside in the communities served by Highmark Inc. The Foundation strives to support evidence-based programs that impact multiple counties and work collaboratively to leverage additional funding to achieve replicable models. For more information, visit http://www.highmarkfoundation.org.
About Women for a Healthy Environment
Women for a Healthy Environment focuses on educating the general public on issues associated with food and consumer product safety, including sources of possible exposure to environmental toxins. The organization also collaborates with like-minded organizations to raise awareness on environmental health issues in the western PA region. More information about Women for a Healthy Environment is available at http://www.WomenForaHealthyEnvironment.org.
# # #