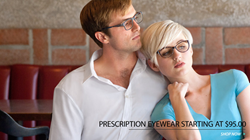 Washington, DC (PRWEB) September 18, 2014
"Francis Drake Eyewear" was featured on NewsWatch as part of its monthly Biz Report, which reviews and features the latest companies and services available to consumers. Scott Steinberg, a host of NewsWatch and technology expert, conducted the review and shared with viewers how these high quality lenses can save users hundreds of dollars while still looking fashion-forward.
Francis Drake Eyewear, a San Francisco company creates fashion-forward glasses that are both stylish and affordable. They collaborate with their Italian Design team headed by Andrea Pozzalli, producing Italian manufactured frames and sunglasses of incredibly high quality and exotic materials. Even with the high end fashion, the frames with prescriptions run only around 95 dollars. Francis Drake Eyeware also create sunglasses for men and women.
The Francis Drake Eyewear website has a feature called "virtual try on" that lets users choose a frame, turn on their computer camera, and see how they look on their face in 3D. This means users can turn their head and the glasses will adjust. All their frames and sunglass pay homage to the San Francisco Bay area, with names and styles dedicated to popular streets and locations in the city.
For more information about Francis Drake Eyewear and their fashionable yet affordable lenses, head to francisdrakeeyewear.com.
About NewsWatch
NewsWatch is a weekly 30-minute consumer oriented television show that airs on the History Channel, FYI Network, and ION Network. NewsWatch regularly features top technology products and services, mobile applications for iOS, Android, and Windows devices, unique and beautiful travel destinations around the world, health and medical tips, and entertainment interviews on the show. NewsWatch airs on the History Channel at 6:00 – 6:30 AM ET/PT and on the FYI Network from 7:00 – 7:30 AM ET.
NewsWatch is located in the greater Washington, DC area and has been on air for over 25 years. For more information or to watch the most recent episode, visit http://newswatchtv.com.