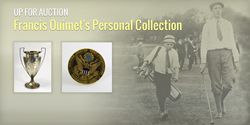 No single golfer has had a greater impact on the game of golf in America than Francis Ouimet
BOSTON (PRWEB) August 15, 2018
Even casual golf fans know the story: an unknown 20 year old caddie from Brookline, Massachusetts shocked the sports world by winning the 1913 US Open. In doing so, Francis Ouimet almost singlehandedly popularized the game of golf in the United States. 10 years after Ouimet's surprise victory, the number of golfers in America had tripled, and hundreds of new golf courses had been built.
Now offered for auction is Francis Ouimet's personal collection of trophies and medals. The auction is being hosted by Green Jacket Auctions, the world's leading golf auction house. The Francis Ouimet Collection is being auctioned by the Francis Ouimet Scholarship Fund, which took possession of Ouimet's personal medals and trophies upon Ouimet's death in 1967.
"No single person has had a greater import on the game of golf in America than Francis Ouimet," says Green Jacket Auctions co-owner Ryan Carey.
Francis Ouimet's collection of trophies and medals is currently up for auction at http://www.GreenJacketAuctions.com. The collection is expected to fetch over $300,000 in the auction, which concludes on Saturday, August 18.