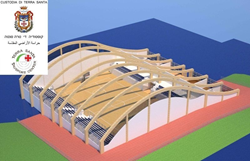 Sports are a language common to all cultures
Jerusalem, Israel (PRWEB) November 25, 2014
The Franciscan Custody of the Holy Land has announced a new project intended to further peace-building efforts in Israel, Palestine and the surrounding areas. This project is targeted at helping children of differing cultural and religious backgrounds play sports together.
According to the Franciscan's Pro Terra Sancta website, this new project called "Acre: Sports for Peace" seeks to support sports as a vehicle for peace and brotherhood between different peoples and cultures.
Always a crossroads of peoples and cultures, the city of Acre was famous for its pivotal role as a port city throughout the Crusades. Destroyed and abandoned several times in its long history, the city of Acre today has around 35,000 Jews and 14,000 Arabs, 13,000 of whom are Muslim and less than 1,000 of whom are Christians, according to the Franciscans.
A small city overlooking the Mediterranean Sea in northern Israel, near Haifa, Acre has been home to the Franciscans for many centuries. St. Francis himself visited there in the 13th century seeking to bring peace between the Christians and Muslims. Today, that is still the mission of those who carry on in his name.
Since the 16th century, Franciscan friars have been serving the local Christian community, including their role in providing education and social activities for the people of Acre.
Over the years, the friars enlarged their schools but today there is shortage of space because the school educates more than 530 students.
Fr. Quirico Calella, ofm, is director of the Terra Santa School in Acre. He has lamented the lack of space for sports and gymnastics near the Acre school.
"We have this small multi-purpose hall that is used to line up the kids; it is also used for their recreation, and for the various parties that are held during the year and it is also used for some sports activities. But there are no afternoon activities, because it is hard to reach this place. Hence, there is a need—the real need—for a multicultural, multi-ethnic and multipurpose sports center. In the evening, the various ethnic groups in Acre—Muslims, Christians and Jews—can meet here, since sports are a common language."
According to the Franciscan website, "Sports are a language common to all cultures and for this reason can become a vehicle for establishing a link between realities that are far apart from one another."
The Franciscan powers that be heard Fr. Calella's need and after discussing what could be done, made the decision to build a new sports center in the newly developing part of Acre. The sports center will also serve for social events and encounters of young people from different cultures and religions.
"With the aim of making this sport center a unique place of fellowship and unity," Fr. Calella said, "it will be a solid foundation that will contribute to the building of a just and lasting peace."
The Tau Sports Center, as it will be called, follows a methodology belonging to Fr. Calella. Put into practice several years ago, it offers the children intercultural educational experiences. One example is the Tau Band, a band made up of Jews, Muslims and Christians; through the language of music, they experience peaceful coexistence with their peers.
"It is in the DNA of the Franciscans, after the example of St. Francis, to bring people together—or to try to—because St. Francis is a man of peace," Fr. Calella said.
Our greeting "pace e bene" is an expression that is often used here in the Holy Land, but that is rarely practiced: "Salam," "Shalom," in Hebrew. It is a well-wishing to the person you greet. It means, "Peace and all good be with you."
For more information about the project or to make a contribution, visit the Franciscan Foundation for the Holy Land website at http://www.ffhl.org or contact Chris Weldon (public relations associate) at cweldon(at)ffhl(dot)org.