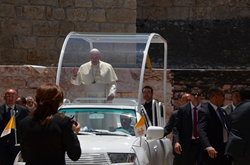 ...allowed the Pope to have more direct contact with the people.
Bethlehem (PRWEB) December 09, 2014
The Franciscan Foundation for the Holy Land (FFHL) is proud to announce that the popemobile used in Bethlehem by Pope Francis during his pilgrimage of peace last May has been donated to the Franciscan Custody of the Holy Land by the president of the Palestinian Authority, Mahmoud Abbas.
According to the Franciscan Media Center, the popemobile will be permanently displayed near Manger Square in Bethlehem, the plaza that fronts the Church of the Nativity, the traditional pilgrimage site of Jesus' birth.
Fr. Peter Vasko, ofm, president of the FFHL, was in Bethlehem the day Pope Francis visited. He was one of four Franciscans chosen to present Pope Francis will an honorary plaque. "I'm elated," Fr. Peter said. "The Pope's visit did so much to inspire hope here in the Holy Land. The popemobile will serve as a great reminder of that hope."
Brother Ibrahim Faltas, ofm, is the bursar for the Franciscan Custody. "We decided to put the car here so that every tourist, every pilgrim who will pass through here—so that all who come through here on their way to the Nativity—will be able to see this car."
Mr. Hussein Al-Araj, head of the Office of the President of the National Palestinian Authority spoke to the importance of the donation of the popemobile by saying, "This car has many meanings, since the Pope has used it… without needing a car to come from the Vatican or Italy. It is an important car because it was made by Palestinian hands."
Not only is the popemobile important to the Christians of the Holy Land because it was made in the Holy Land, but it is also a reminder of the purpose of Pope Francis' pilgrimage which was to promote peace.
Having "this car that allowed the Pope to have more direct contact with the people here, I think will help people—not only to remember, but also to question the meaning of the Pope's visit and ask themselves if they are keeping alive the seed that the Pope has planted," said Monsignor Giuseppe Lazzarotto, the Apostolic Delegate for Jerusalem and Palestine."
Pilgrims to the Holy Land can find the donated popemobile next to Manger Square in front of the Franciscan owned 'Il Cantico' ice cream shop.
For more information, please contact Chris Weldon at cweldon(at)ffhl(dot)org or visit the Franciscan Media Center at http://www.fmc-terrasanta.org.