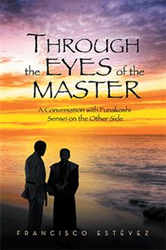 Spain (PRWEB) March 10, 2014
In Through the Eyes of the Master, author Francisco Estévez weaves a story that brings readers into a spiritual journey of discovery and gives them a glimpse beyond what is real. It was inspired by his friend's near-death experience that had a deep impact on his life and the relevance of what he was told could have in many people´s life, especially among Karate and martial arts followers.
A Karate-Do instructor became a victim of a violent street assault that sends him into a coma. While unconscious, he has a near-death experience where he finds the profound happiness that eludes him on this earth. Reluctant to return to his body, he is granted one of his most unattainable dreams: to meet the founder of Karate-Do, Gichin Funakoshi Sensei, a figure who has had a remarkable impact on his life, deceased then for 41 years. The thoughts that Funakoshi Sensei reveals from the other side will definitely not be appreciated by those who have commercialised karate to the point of turning the ancient practice of martial arts into a business venture. But will instead be a source of inspiration to those who are already on the Budo path or about to undertake it.
Francisco Estévez, a long time Karate Do student, describes a near death experience that confirms his belief that death does not exist but it is just a door to another level of existence. We see through the eyes of master Funakoshi that we all have a purpose in life and our aim on earth is to fulfill a mission. Traditional martial arts are a unique way to reach our inner selves and a wonderful tool for self-development.
Through the Eyes of the Master will let the readers understand that martial arts are not based on violence, as many seem to believe nowadays and that their goal is to defeat the biggest enemy man has – their ego. It will also enlighten them how Karate-Do can be a fantastic way of self-discovery and that it is a path open to anyone, irrelevant of their age of physical capabilities.
For more information on this book, interested parties may log on to http://www.XlibrisPublishing.co.uk.
About the Author
Whilst still in his adolescence, Francisco Estévez discovered in Budo the path that enabled him to channel his drive for inner development and self-discovery. He joined the Foreign Service of Spain and continued his quest for knowledge studying in dojos in Europe, Asia and the United States. During his postings in Central America, he opened dojos first in Costa Rica and later in Nicaragua, teaching in both for the length of his tenure. Currently in Luanda, Angola, he continues his study of Karate-Do. In 2003, he received in Tokyo the rank of 4th Dan, by Hirokazu Kanazawa Sensei.
Through the Eyes of the Master * by Francisco Estévez
A Conversation with Funakoshi Sensei on the Other Side
Publication Date: August 16, 2013
Trade Paperback; £13.99; 141 pages; 978-1-4836-7208-3
Trade Hardback; £23.99; 141 pages; 978-1-4836-7209-0
Ebook; £3.99; 978-1-4836-7210-6
Members of the media who wish to review this book may request a complimentary paperback copy by contacting the publisher at 800-056-3182. To purchase copies of the book for resale, please fax Xlibris at 44-203-006-8880 or call 800-056-3182. For more information, contact Xlibris at 800-056-3182 or on the web at http://www.XlibrisPublishing.co.uk.