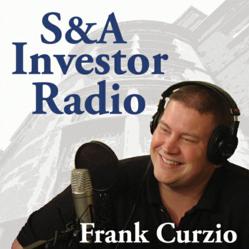 I described my own personal story (of how I lost and made money) and what worked and what didn't and combined that with the stories of others.
- James Altucher
Baltimore, MD (PRWEB) July 12, 2013
S&A Investor Radio, an independent financial research podcast produced weekly by Stansberry Radio announced it hosted best-selling author, James Altcuher and investment analyst Dr. David Eifrig in an episode (190) released last week.
Altucher discussed his new book "Choose Yourself!" with Curzio. Of the book, Altucher says, "I described my own personal story (of how I lost and made money) and what worked and what didn't and combined that with the stories of others." Cuzrio called Altucher "one of the most humble, brilliant people that I know."
"Choose Yourself!" has quickly gained renown since its release in June finding its way to both the top of the New York Times and Amazon best-seller lists.
Curzio continued the episode by interviewing Stansberry & Associates analyst Dr. David Eifrig, who writes two financial publications for the research firm. Curzio discussed Dr. Eifrig's unprecedented track record of having closed 123 consecutive positions for a gain in his Retirement Trader service. "123 for 123 right now," Curzio said. "He's making money while everyone else is getting killed." In addition to Retirement Trader, Eifrig also writes the monthly Retirement Millionaire newsletter for Stanberry & Associates Investment Research.
Listen to the entire interview here (episode 190).
S&A Investor Radio is an independent financial research podcast hosted weekly by Frank Curzio and produced by Stansberry Radio. Host, Frank Curzio is one of America's most recognized experts in the small cap sector. He is the voice behind S&A Investor Radio, as well as the editor of S&A's Small Stock Specialist, and the exclusive emerging technology micro-cap advisory, Phase 1 Investor.
Before joining Stansberry, Frank lived and worked in New York City writing for TheStreet.com. He is still mentioned numerous times on Jim Cramer's Mad Money, and has been a guest on Fox Business News, Stansberry Radio, and CNBC's The Kudlow Report and The Call.
James Altucher is the former president and founder of Stockpickr LLC, a wholly owned subsidiary of TheStreet.com and part of its network of Web properties, and a managing partner at Formula Capital, an alternative asset management firm that runs a fund of hedge funds. He also is a weekly columnist for the Financial Times and the author of the books Trade Like a Hedge Fund, Trade Like Warren Buffett and SuperCa$h. Previously, Altucher was a managing partner at technology venture capital firm 212 Ventures and was CEO and founder of Vaultus and Reset Inc. He holds a bachelor's degree from Cornell and was a doctoral candidate at Carnegie Mellon University. He is also a nationally ranked chess master.
Dr. David Eifrig Jr. is the editor of two of Stansberry's best advisory services. One of his advisories, Retirement Millionaire, is a monthly letter showing readers how to live a millionaire lifestyle on less than you'd imagine possible. He travels around the U.S. looking for bargains, deals, and great investment ideas. Already his average reader has saved $2,793 since 2008 (documented in each Retirement Millionaire issue.
He also writes Retirement Trader, a bi-monthly advisory that explains simple techniques to make large, but very safe gains in the stock and bond markets. This is a pure finance play and the reason Porter Stansberry loves having "Doc" on the team.
Doc holds an MBA from Kellogg and has worked in arbitrage and trading groups with major Wall Street investment banks (Goldman Sachs). In 1995, he retired from the "Street," went to UNC-Chapel Hill for medical school, and became an ophthalmologist. Now, in his latest "retirement," he joined Stansberry & Associates full-time to share with readers his experiences and ideas.