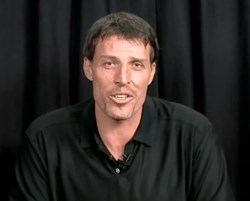 This man has got the goods. He'll deliver for you, take advantage of what he has to offer.
La Jolla, CA (PRWEB) January 22, 2014
Anthony Robbins is known worldwide for his incredible skills in helping people with health and energy, overcoming fears, building wealth, persuasive communication, and enhancing relationships.
In a new video testimonial published on Youtube.com Tony talks about his recent experience with Frank Kern and the help that he has received from Frank on some recent projects.
In the video Anthony speaks very highly of Frank saying, "He's funny as hell, he's a real guy. But he is also someone that will deliver for you and a man of total integrity. We've just gotten to know each other recently, he's helped me out on a couple of projects and just some small insights that make a BIG difference. You probably already know that if you are one of his customers but I just wanted to give a shout out and thank him."
Frank Kern is probably most well known for his skills with internet marketing and email marketing campaigns online but has most recently focused on helping other entrepreneurs to grow their revenue online with his innovative strategies which are consistently ahead of the curve and well beyond what others are teaching.
About: Frank Kern is available for business consultations and can be contacted through his website at http://FrankKern.com. Recently three of Frank Kern's clients were featured in a video testimonial with each giving their own unique viewpoint on how they have been helped by Franks innovative coaching. To see what other clients are saying about Frank Kern click here.