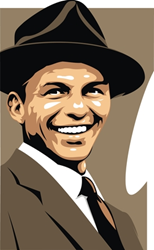 Frank Sinatra is arguably the most famous resident in the history of Palm Springs.
Rancho Mirage, CA (PRWEB) December 09, 2014
Brad Schmett, Broker Associate with Luxury Homes by Keller Williams today announced that the December 12 birthday of the late Frank Sinatra marking his 99th year will encompass several celebrations and will prove to be an irresistible draw for Sinatra fans shopping for luxury homes in the Palm Springs area or adding to their real estate portfolios.
On Friday evening at 7 PM in Rancho Mirage at the Helene Galen Performing Arts Center legendary entertainer and standup comedian Tom Dreesen will present an evening of memories and storytelling centered on world-famous crooner Frank Sinatra, for whom he opened for 13 years. The one night only performance will benefit the Barbara Sinatra Children's Center and will be the first in a series of events celebrating what would have been Frank Sinatra's 99th birthday. From December 12-14 the Sinatra Twin Palms Estate in Palm Springs will host a weekend long birthday bash with a full menu of events and activities.
Schmett recently shared this, "Frank Sinatra is arguably the most famous resident in the history of Palm Springs. Together with his wife, Barbara, they created a sophisticated social ambience and generous charitable pursuits that are still embraced today. The Sinatra's brought worldwide attention to the Coachella Valley for decades and they are still icons of the community. Every year thousands of fans head to the Palm Springs area to purchase vacation homes, add to their real estate portfolios or just spend some time walking in the footsteps of the Rat Pack. We are always delighted to welcome them."
Tickets for both events are limited. Additional celebrations are planned across the country, including Sinatra's home state of New Jersey.
For more information on Evening of Laughter and Memories of Sinatra or the 99th Birthday Bash event visit http://palmspringsrealestateinfo.com/ps/frank-sinatras-99th-birthday/.
To find out more about investing in Rancho Mirage, CA real estate visit http://ranchomiragerealestateinfo.com.
About Luxury Homes by Keller Williams: Luxury Homes by Keller Williams – La Quinta, is an exclusive, elite and sophisticated group of real estate consultants raising the bar for service in the Rancho Mirage and Palm Springs area residential real estate market.