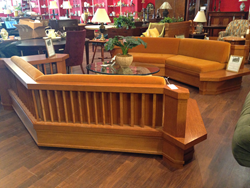 "These are truly one-of-a-kind pieces that you just can't go buy at any furniture store."- Kellie Scott, Owner of Divine Consign
Oak Park, IL (PRWEB) May 13, 2014
For those who have ever wanted to own something from a Frank Lloyd Wright house, now is the chance. Local furniture consignment store Divine Consign recently acquired two custom-built settees from the Peter A. Beachy House in Oak Park, IL, which was designed by Frank Lloyd Wright in 1906. The pair of Mission Style settees are handmade of quarter-sawn oak and boast an angular shape, unique to the design of the home for which they were built.
"They have quickly become the talking point of our showroom," owner of Divine Consign, Kellie Scott, says about the settees. "People walk in and realize the significance of these pieces. They can't help but sit down and admire them."
And they couldn't have come in at a better time, according to Scott.
"The Frank Lloyd Wright housewalk is coming up in a few weeks and the Beachy House is on the lineup this year. The housewalk is a don't-miss event for our customers every year, so it's sort of festive that we happened to receive the settees when we did," Scott adds. She also mentioned that this year marks 125 years since Wright first began his career in Oak Park.
"These are truly one-of-a-kind pieces that you can't just go buy at any furniture store. They're a good reminder of what makes consignment so great. You never know what kind of historically significant pieces you might run into," Scott says. The settees are for sale at Divine Consign for $3,999.99 each.
Divine Consign is located at 809 S. Oak Park Ave in Oak Park, and is open Mon-Tues 11-6, Wed-Fri 11-7, Sat 11-6 and Sun 12-5.
About Divine Consign
Founded in 2009, Divine Consign has become a go-to home furnishings resource in the Chicago suburb of Oak Park. With a mantra of "Unlimited Style for the Limited Budget," the store maintains a full inventory of top-quality furniture and décor for customers of all tastes and budgets. Items are viewable at both its Oak Park Avenue storefront location and online store.
For more information, please visit http://www.divineconsign.com or contact Kellie Scott directly at (708) 386-3366 or kellie(at)divineconsign(dot)com.