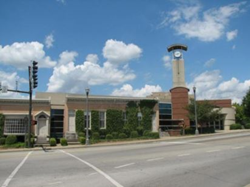 Frankfort, KY (PRWEB) March 22, 2016
Online auctioneer Micoley.com will auction Lot 101477 in Frankfort, KY, at the end of April. The lot is a sizable office building built in 1996 and is located in the city's Central Business District at 112 E Main Street Frankfort, KY [zip: 40601].
This 20,400 square-foot office building features an entry foyer with a reception area in the main level, as well as a main lobby with stairs and an elevator that leads to the lower restrooms, conference room, and office space. The lower level features both open space and finished offices, and provides a walkout to a courtyard.
Additional features include a parking lot with 50 paved spaces. The parking lot can be expanded to accommodate up to 100 vehicles, which gives the property an advantage over other commercial buildings in the Central Business District. This building offers easy access to the state capital and includes a keypad security system in excellent condition.
Kentucky's capital city provides much for residents and tourists alike, as it features a range of historic sites, gardens, galleries, outdoor and riverfront venues, museums and libraries, shopping options, and more. Historical sites include Daniel Boone's gravesite and the Frank Lloyd Wright House. Numerous events take place in Frankfort throughout the year as well, including the 11th Annual Pony Car Round-Up, a free event showcasing mustangs and other vintage vehicles.
List price for Lot 101477 is $650,000 with an opening bid of $500,000. The property may be sold prior to the April 27 auction.
About Micoley.com:
Micoley.com was created to "transform the real estate industry," and functions in conjunction with W.M. Enterprises, Inc. President and CEO, Wade T. Micoley has served as a real estate industry leader for more than 30 years, and continues to provide marketing solutions to his wide range of clients.
"Today we serve the real estate community in both the banking and private sectors with customized, accelerated marketing programs," says W. Micoley. "Programs can be tailored for financial institutions, commercial and corporate clients as well as the individual property owner to help face our current and unpredictable economic environment. As a result of our aggressive marketing plan, Micoley has successfully assisted many clients across the United States."