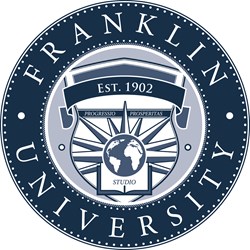 Columbus, OH (PRWEB) September 05, 2013
Franklin University, one of the leading educators of working adults, will hold its 144th Commencement Ceremony on Sunday, Sept. 8 at 2 p.m., during which nearly 650 degree candidates will receive their diplomas at Veterans Memorial Auditorium.
President and CEO of Fifth Third Bank (Central Ohio), Jordan A. Miller, Jr. will make the keynote address. In his role, Miller is responsible for the growth and strategic direction of all lines of business including: Commercial Banking, Branch Banking, Consumer Lending and Investment Advisors. He joined Fifth Third Bank in 1998 as president of Fifth Third Securities Inc. and was responsible for the management and distribution of investment products and services in all Fifth Third markets. He was named Senior Vice President and Manager of Fifth Third Investment Advisors for Fifth Third Bank (Cincinnati) in 2004, and became President of Fifth Third Bank (Central Ohio) in 2007.
Prior to joining Fifth Third Bank, Miller served as Chief Financial Officer and business manager for Huntington Investment Company in Columbus, Ohio. Miller received his bachelor's degree in Business Management from the University of Maryland in College Park, and also attended The Ohio State University.
Miller is active in the community, serving as a board member of Ohio Bar Liability Insurance Company. In the nonprofit arena, he is a member of the Board of Directors for the Columbus Regional Airport Authority, Lincoln Theatre Association, United Way of Central Ohio, the Ohio Foundation of Independent Colleges, James Cancer Hospital, and Nationwide Children's Hospital. He is also a member of the Columbus Partnership.
He was appointed to City of Columbus Mayor Michael B. Coleman's Columbus Education Commission and the Federal Reserve Bank of Cleveland Columbus Business Advisory Council. He also served as the chairman of the American Heart Association's Heart Ball and chairman for Prevent Blindness Ohio's People of Vision.
Graduating M.S.–Instructional Design & Performance Technology (IDPT) student Darlene Bailey will also address the graduates. Darlene has worked in the training and development field for nearly 14 years and is currently a Training Consultant for Sedgwick. The knowledge she has gained from Franklin University's IDPT program has already enhanced her work of designing and conducting training and performance improvement programs that are engaging and beneficial for her colleagues and employer.
Darlene earned her Bachelor of Science in Business Administration from Kent State University. She is originally from northeast Ohio and now resides in Grove City.
About Franklin University
Founded in 1902, Franklin University is one of the leading and most experienced educators of adult students. Annually, nearly 10,000 students attend Franklin, through its Main Campus in downtown Columbus, Ohio, three Central Ohio locations, regional locations in Beavercreek, Ohio and Indianapolis, as well as at five co-locations across Ohio, in addition to online. Franklin offers more than 40 undergraduate and graduate programs (including the new Risk Management and Insurance undergraduate major available this Fall) and graduates more than 1,500 students annually. The University's MBA program is offered internationally through agreements with institutions in Europe and the Middle East. Further information regarding Franklin University can be found at http://www.franklin.edu.
Franklin University is accredited by The Higher Learning Commission (HLC), the International Assembly for Collegiate Business Education (IACBE), and the Commission on Collegiate Nursing Education (CCNE).