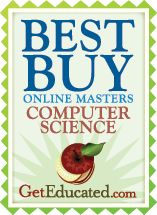 Columbus, OH (PRWEB) September 17, 2013
Franklin University is proud to announce its online M.S. Computer Science (MSCS) has again been ranked by GetEducated.com as a "Best Buy" for students seeking a high quality, low-cost online degree. A GetEducated "Best Online University" affordability ranking indicates that an online master's program has been independently reviewed, compared to its peers in a comprehensive national survey, and found to offer one of the best values in online graduate education for technology students nationwide.
This year's ranking is based on a national survey of 77 regionally accredited universities that offer 115 different online master's in computer science and IT. The survey covered a wide range of computer science majors, including information systems, database mining, information assurance and technical communication. The rankings highlight the 45 best affordable online degrees in this field.
Franklin's MSCS Program teaches students how to interface with organizational stakeholders and translate an evolving set of needs into high-level systems requirements. Students learn how to integrate new systems within the broader hardware and software environment, too, as well as set software development standards.
Through Franklin's practical, hands-on coursework, students gain experience with leading architectural tools, such as UML and Patterns, as well as other critically needed skills such as algorithm analysis, distributed systems, acceptance testing, and database design using Oracle and SQL Server.
In addition, Franklin's MSCS curriculum is regularly reviewed by an advisory board strongly represented by Fortune 500 firms which means that skills learned at Franklin are relevant to the needs of the industry now—and stay relevant over time.
About Franklin University
Founded in 1902, Franklin University is one of the leading and most experienced educators of adult students. Annually, nearly 10,000 students attend Franklin, through its Main Campus in downtown Columbus, Ohio, three Central Ohio locations, regional locations in Beavercreek, Ohio and Indianapolis, as well as at five co-locations across Ohio, in addition to online. Franklin offers more than 40 undergraduate and graduate programs (including the new Risk Management and Insurance undergraduate major available this Fall) and graduates more than 1,500 students annually. The University's MBA program is offered internationally through agreements with institutions in Europe and the Middle East. Further information regarding Franklin University can be found at http://www.franklin.edu.
Franklin University is accredited by The Higher Learning Commission (HLC), the International Assembly for Collegiate Business Education (IACBE), and the Commission on Collegiate Nursing Education (CCNE).