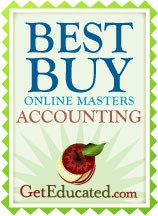 Columbus, OH (PRWEB) January 29, 2014
Franklin University is proud to announce its online Master of Science in Accounting (MSA) program has been independently reviewed and once again ranked by GetEducated.com as a "Best Buy" for students seeking a high quality, low-cost online graduate degree.
A GetEducated "Best Online University" affordability ranking indicates that an online master's program has been independently reviewed, compared to its peers in a comprehensive national survey, and found to offer one of the best values in online graduate education for technology students nationwide.
GetEducated reviewed 207 accredited online business schools by objectively comparing course tuition and online learning fees at 23 online business schools in the United States that offer 24 different master's in accounting online degrees.
Franklin's transformational MSA Program equips graduates to see big-picture accounting systems and processes. Graduates learn to think critically, communicate effectively, and leverage technology in contributing to high-performing organizations.
Franklin's MSA provides an executive skill set that prepares graduates to advance into an accounting leadership position such as in the critical areas of management control systems, advanced auditing and data analytics, financial accounting and reporting, enterprise resource planning, forensic accounting, and enterprise risk management. The MSA will prepare graduates to move into advanced-skill, leadership positions, such as CFO, Controller, Internal Auditor, or Accounting Manager. In addition, at the completion of coursework, graduates will have the foundational knowledge required to sit for professional accounting certification exams, such as the Certified Public Accountant (CPA) designation.
For more information on the Franklin University Master of Science in Accounting, visit: http://www.franklin.edu/accounting-masters-degree-program.
About Franklin University
Founded in 1902, Franklin University is one of the leading and most experienced educators of adult students. Annually, nearly 10,000 students attend Franklin, through its Main Campus in downtown Columbus, Ohio, three Central Ohio locations, regional locations in Beavercreek, Ohio and Indianapolis, as well as at five co-locations across Ohio, in addition to online. Franklin offers more than 40 undergraduate and graduate programs (including the new Risk Management and Insurance undergraduate major available this Fall) and graduates more than 1,500 students annually. The University's MBA program is offered internationally through agreements with institutions in Europe and the Middle East. Further information regarding Franklin University can be found at http://www.franklin.edu.
Franklin University is accredited by The Higher Learning Commission (HLC), the International Assembly for Collegiate Business Education (IACBE), and the Commission on Collegiate Nursing Education (CCNE).