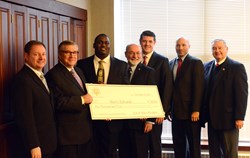 It was an honor to present the first scholarship award to Harry, and I couldn't be more pleased that he was selected. His commitment to education and community is truly admirable. -Clarke Price
Columbus, OH (PRWEB) December 23, 2013
Franklin University, one of the leading educators of working adults in central Ohio, is pleased to announce the first Clarke Price Accounting Scholarship has been awarded to Harry Edwards, an Iraqi war veteran and Master of Science in Accounting student at Franklin.
The Clarke Price Accounting Scholarship was established in honor or Clarke Price, CAE who retired from The Ohio Society of CPAs in December 2012 after 40 years with the association. In recognition of his service to OSCPA and the profession, The Ohio CPA Foundation, OSCPA's charitable affiliate, created the Clarke Price Accounting Scholarship Endowment.
Edwards, a first-generation college graduate with a bachelor's degree in business management, served in the military for eight years before an injury suffered during his third tour in Iraq ended his military career. Edwards then decided to pursue a career as a CPA and enrolled at Franklin University.
"I believe this field is a sound choice because of the demand for accountants in both the public and private sectors," Edwards said. "I have set a high professional goal to make something of myself in the accounting world. My upbringing has made me a humble servant to humanity and my optimism makes me look at the positive aspects of situations that help maintain a smile on my face. This opportunity to be the recipient of this new scholarship is not only a blessing, but also an honor."
Price presented the scholarship to Edwards at an Accounting Advisory Board special meeting held this month at Franklin University.
"It was an honor to present the first scholarship award to Harry, and I couldn't be more pleased that he was selected," said Price, an alumnus of Franklin University and current Franklin University Board of Trustees chair of the Audit, Controls and Compliance Committee. "His commitment to his education and his community is truly admirable."
The Clarke Price Accounting Scholarship Endowment serves as a source of financial support for students who might not be at the top of their class but demonstrate the drive to complete their accounting degree and have the potential to achieve career success as CPAs. Price, having taken a non-traditional route through college, requested that scholarships be awarded to students who might not fall into traditional student patterns. The emphasis will be on identifying students who have the capacity to be future leaders for the CPA profession.
About the Franklin University Master of Science in Accounting
Franklin's transformational M.S. in Accounting (MSA) Program equips graduates to see big-picture accounting systems and processes. Graduates learn to think critically, communicate effectively, and leverage technology in contributing to high-performing organizations.
Students reap the rewards of earning a MSA faster at Franklin. In as few as 17 months, students conveniently earn a high-value degree at an affordable cost. Franklin's online MSA received GetEducated.com's 2012 "Best Buy" designation from among 207 accredited online accounting programs. At the completion of their coursework, students also have the foundational knowledge required to sit for professional accounting certification exams, such as the Certified Public Accountant (CPA) designation.