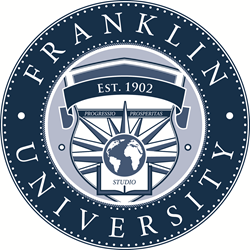 Columbus, OH (PRWEB) July 16, 2015
Franklin University, a leading educator of working adults, is pleased to announce the appointment of Clifton L. Spinner as the new Director of Safety and Security Services.
A former commander of the Ohio State Highway Patrol, Clifton spent 28 years with the Ohio State Highway Patrol, retiring in June of 2015. He earned a master's of science degree in criminal justice from the University of Cincinnati, a bachelor of science in criminal justice from West Liberty University and is a graduate of Northwestern University's School of Police Staff and Command.
As Director of Safety & Security Services, Clifton is responsible for the leadership and management of all safety and physical security initiatives impacting the University. He directs day-to-day operations, emergency and crisis response, and compliance with the federally mandated laws such as HEOA and CLERY, as well as investigations and physical security risk mitigation efforts at all Franklin University locations within the United States and abroad.
As a result of the University's expansion last year, Clifton manages campus security at both Franklin University and Urbana University. He oversees all domestic safety operations, as well as international travel safety and security management. Clifton maintains the professional relationships with all local, county, state and federal government partners for on campus safety and security matters.
Clifton's extensive background includes numerous awards, service on several boards and committees, and teaching experience as an adjunct professor at Ohio University in the criminal justice / law enforcement program. Committed to helping youth, Clifton serves as the Board Chair for the Brightway Center in Smithfield, Ohio and has served as a big brother with Big Brothers Big Sisters of America. In addition, he has served as an assistant scoutmaster with the Boy Scouts of America. He and his family currently reside in Pickerington, Ohio.
About Franklin University
Founded in 1902, Franklin University is one of the leading and most experienced educators of adult students. Annually, nearly 10,000 students attend Franklin, through its Main Campus in downtown Columbus, Ohio, three Central Ohio locations, a regional locations in Beavercreek, Ohio and at co-locations across Ohio, Indiana, Pennsylvania and Wisconsin, in addition to online. Franklin offers more than 40 undergraduate and graduate programs (including the new Certificate in Criminal Justice and Logistics Management major available this Fall) and graduates more than 1,500 students annually. The University's MBA program is offered internationally through agreements with institutions in Europe and the Middle East. Further information regarding Franklin University can be found at http://www.franklin.edu.