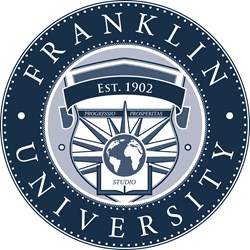 Columbus, OH (PRWEB) January 08, 2014
Franklin University, one of the leading educators of working adults, will hold its 145th Commencement Ceremony on Sunday, Jan. 12, 2014, during which nearly 600 degree candidates will receive their diplomas at Veterans Memorial Auditorium.
Dr. Karen Rafinski, President Emeritus of Clark State Community College will make the keynote address. Dr. Rafinski served the institution for 16 years during which time, she spearheaded efforts that resulted in record enrollment growth to more than 9,000 students and an additional 3,000 non-credit students. She led a successful $16 million fundraising effort for campus expansion – including new community college centers in Greene and Logan counties, and managed $39.2 million in college operational and restricted assets. Building and foundation at Clark State, her efforts led Ohio's community colleges in having the most dollars in endowments behind each Full-Time Equivalent (FTE) student. In recognition of these accomplishments, the Clark State Trustees recently honored Dr. Rafinski by announcing that a new campus building will carry her name when it is completed in January 2015.
Dr.Rafinski's career includes more than 40 years in the nation's community colleges and 26 years in presidencies in Ohio and Minnesota's state colleges and universities. She has served in many roles in her tenure, including faculty, athletic director (the first woman in Minnesota to direct a men's athletic program), coaching, resource development, student services, program development /strategic planning, academic affairs and continuing education. She served on the Women's Council on Education, and also on the AACC Commissions in Washington in Academic and Student Services, Diversity and Marketing.
She has a bachelor's degree from Minnesota State University at Moorhead; a master's degree from the University of Washington, Seattle; a Ph.D. from the University of Minnesota in Minneapolis; and an MPA from Harvard University in Cambridge. She completed the Harvard Institute for Higher Education in 1998, and received an honorary doctorate from Urban University (Ohio) in 2000.
Dr. Rafinski accepted the Interim President of the Ohio Association of Community Colleges in September 2013, and is currently leading initiatives in dual enrollment, state funding formulas for community colleges, and the 2014 Ohio Higher Education Capital Bill.
Receiving his M.S. in Computer Science, a top ranking program for Regionally Accredited Online Computer Science Programs by GetEducated.com, Greg Wyatt will also address the graduates. Greg Wyatt has worked as a software developer for the last four years at Prospect Technologies, LLC Worthington. The knowledge he has gained at Franklin University has been extremely beneficial to his career - especially his work with databases, user interfaces, software system design and documentation
Greg previously earned his bachelor's degree in Computer Engineering Technology from DeVry University. He resides in Columbus Ohio with his wife, Stef, and their 1 year old son, Jack.
About Franklin University
Founded in 1902, Franklin University is one of the leading and most experienced educators of adult students. Annually, nearly 10,000 students attend Franklin, through its Main Campus in downtown Columbus, Ohio, three Central Ohio locations, regional locations in Beavercreek, Ohio and Indianapolis, as well as at five co-locations across Ohio, in addition to online. Franklin offers more than 40 undergraduate and graduate programs (including the new Risk Management and Insurance undergraduate major) and graduates more than 1,500 students annually. The University's MBA program is offered internationally through agreements with institutions in Europe and the Middle East. Further information regarding Franklin University can be found at http://www.franklin.edu.
Franklin University is accredited by The Higher Learning Commission (HLC), the International Assembly for Collegiate Business Education (IACBE), and the Commission on Collegiate Nursing Education (CCNE).