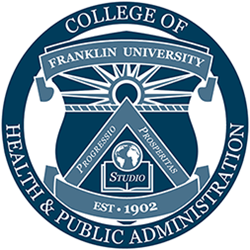 Columbus, OH (PRWEB) July 08, 2015
Franklin University, a leading educator of working adults, is pleased to announce the addition of its new Certificate in Criminal Justice Leadership offering beginning in Fall 2015.
From community policing and crime prevention to prison overcrowding and reentry, solutions to reform the criminal justice system for the 21st century will require forward-thinking leadership. Earning a certificate in criminal justice leadership equips students with an in-field credential that prepares them to build specialized knowledge quickly so they can be agents of change in the dynamic field of criminal justice. The accelerated, convenient format also means students can complete their coursework in as few as six months without taking time away from their job.
Taught by seasoned professionals within the criminal justice industry, the certificate curriculum provides students with a holistic view of criminal justice systems – from how policy is made to the impact of laws and how they are enforced. Recognized for excellence in online instruction, courses are embedded with interactive learning tools and emphasize on-the-job challenges to facilitate learning.
Students receive practical insight to help stand out and be recognized. Real world examples – like a pill mill case study – will illustrate how the entire criminal justice system operates – including judge, prosecutor, witnesses and application of RICO statute. In addition to real world knowledge, completion of the criminal justice leadership certificate may count toward the educational requirements for individuals who desire to eventually "pay it forward" as criminal justice instructors.
During the certificate program, students will examine trending topics such as prosecutorial discretion, use of force, intelligence-led policing and behavior analysis and have the opportunity to evaluate these issues from data-driven and evidence-based practice perspectives in order to create new strategies. Problem-based learning is employed in the certificate program to explore ethical leadership principles and their relationship to legal and regulatory issues within criminal justice.
Just like Franklin University's degree programs, certificate programs are designed with the input of industry experts to ensure that learning outcomes are aligned with industry demands. The Criminal Justice Leadership curriculum is aligned with national standards set by the Academy of Criminal Justice Sciences (ACJS). Program Advisory Board members includes professionals from a variety of fields, including public safety, law enforcement, homeland security, the judicial system and corrections.
All 16 credits earned as part of the criminal justice leadership certificate transfer toward the 40 credits required for the Master of Public Administration (MPA), making the certificate program a great way to become familiar with graduate-level courses and see if a master's degree is right for you. Moreover, because there's no GRE requirement with a GPA of 2.75 or higher, you can get started right away.
Because Franklin University specializes in meeting the educational needs of ambitious professionals – students quickly learn what they need to build the knowledge and position necessary for success. The entire certificate can be completed online in six months, eliminating the need to re-arrange life around education. Furthermore, students who have completed the Certified Law Enforcement Executive Program (CLEE) can transfer in four credits toward the certificate requirements and finish even faster.
Graduates of the certificate program will be qualified for careers as a corrections manager, court administrator, first-line supervisor (police/detectives), juvenile corrections administrator, police chief, probation officer/administrator.
For more information visit Franklin University's certificate in criminal justice leadership page at http://www.franklin.edu/criminal-justice-certificate-graduate
About Franklin University
Founded in 1902, Franklin University is one of the leading and most experienced educators of adult students. Annually, nearly 10,000 students attend Franklin, through its Main Campus in downtown Columbus, Ohio, three Central Ohio locations, a regional locations in Beavercreek, Ohio and at co-locations across Ohio, Indiana, Pennsylvania and Wisconsin, in addition to online. Franklin offers more than 40 undergraduate and graduate programs (including the new Certificate in Criminal Justice and Logistics Management major available this Fall) and graduates more than 1,500 students annually. The University's MBA program is offered internationally through agreements with institutions in Europe and the Middle East. Further information regarding Franklin University can be found at http://www.franklin.edu.
###