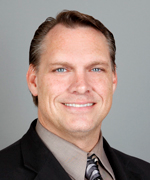 Columbus, Ohio (PRWEB) March 18, 2015
Franklin University, one of the leading educators of working adults, is proud to announce Dr. Leslie King, Chair of the Franklin University Department of Health has been named to the Columbus State Community College (CSCC) Institutional Review Board (IRB). Appointed by CSCC President David Harrison, Dr. King replaces Dr. Mark Purcell who served for two years as the non-institutional IRB representative.
The IRB is composed of 5 voting members, all who are appointed by Executive Memorandum and report to OHRP. Members come with varying backgrounds and expertise in special areas to provide complete and adequate review of research.
Dr. King serves as the chair of the Department of Health at Franklin University, as well as the Program Chair for the Master of Healthcare Administration. His career spans over 25 years in the healthcare field. A licensed member of the American Society of Clinical Pathologists, he has published on clinical toxicology and healthcare education issues. From 2004 to 2010, Dr. King served as Chairperson of Allied Health Professions and Director of Instructional Technology and Distance Learning at CSCC.
About IRB
As a publicly funded institution of higher education, Columbus State's Institutional Review Board is responsible for providing a safe environment for human subject research at the College.
All research activities that involve the faculty, staff or students of Columbus State, including masters and doctoral projects, must be reviewed and approved in writing by the IRB before the research is initiated. IRB activities are administered by the Office of Institutional Effectiveness located in the GT Building.
About Franklin University
Founded in 1902, Franklin University is one of the leading and most experienced educators of adult students. Annually, nearly 10,000 students attend Franklin, through its Main Campus in downtown Columbus, Ohio, three Central Ohio locations, regional locations in Beavercreek, Ohio and Indianapolis, as well as at numerous co-locations across Ohio, in addition to online. Franklin offers more than 40 undergraduate and graduate programs (including the Social Sciences and Entrepreneurship Bachelor of Science programs) and graduates more than 1,500 students annually. The University's MBA program is offered internationally through agreements with institutions in Europe and the Middle East. Further information regarding Franklin University can be found at http://www.franklin.edu.
Franklin University is accredited by The Higher Learning Commission (HLC), the International Assembly for Collegiate Business Education (IACBE), and the Commission on Collegiate Nursing Education (CCNE).
###