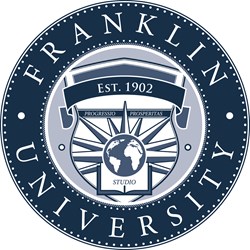 Columbus, OH (PRWEB) January 28, 2014
Franklin University is pleased to announce it has been named an Honorable Mention winner in the prestigious Institute of International Education's (IIE) Andrew Heiskell Awards for Innovation in International Education. Franklin's Honorable Mention designation recognizes the University's best practices within its international partnership with the Wroclaw School of Banking in Wroclaw, Poland.
Franklin's agreement with WSB offers the Franklin MBA program to Polish students in classes held on WSB's modern campus in Wroclaw, Poland. Classes are taught in English by a combination of Columbus-based Franklin faculty traveling to Poland and European faculty from WSB and other institutions. In addition, the agreement also provided for Franklin faculty to provide input to WSB counterparts in developing a Polish-language MBA program leading to a WSB degree.
Recognition, such as that received in today's announcement, demonstrates Franklin's global appeal. Through best practices, such as those exemplified in its partnership with WSB, Franklin has expanded its global footprint and currently holds agreements with institutions in Europe and the Middle East to offer its MBA. (For a complete listing of the University's global partnerships, visit: http://bit.ly/1hDZ8bW). Through these collaborations, Franklin can serve the educational needs of international students around the world.
Franklin is proud to join the following elite group of colleges and universities in this year's award designations:
2014 Andrew Heiskell Award Winners:
Study Abroad: Clemson University
Internationalizing the Campus: University of Wisconsin-Eau Claire
International Partnerships: University of Michigan (MI) with Shanghai Jiao Tong University
Internationalizing the Community College: Lone Star College System
Honorable Mention:
Study Abroad: DePaul University
Internationalizing the Campus: The University of British Columbia (Canada), Univ. of Hyderabad
Internationalizing the Community College: Valencia College
International Partnerships: Franklin University Partnership With Wyzsza Szkola Bankowa
Universidad Autonoma del Estado de Mexico (Mexico) partnership with University of North Texas
IIE's Heiskell Awards are named for the late Andrew Heiskell, a former chairman of Time Inc. and a long-time member of the Executive Committee of IIE's Board of Trustees. Mr. Heiskell was a renowned international and cultural philanthropist and a dedicated supporter of international education. The awards showcase the most innovative and successful models for internationalizing the campus, study abroad, and international partnership programs in practice today, with a particular emphasis on initiatives that remove institutional barriers and broaden the base of participation in study abroad and international teaching and learning on campus. The awards honor the most outstanding initiatives in international higher education among the more than 1,200 higher education institutions in IIE's membership association.
Visit IIE's Best Practices Resource at http://www.iie.org/internationalization for profiles of the Heiskell Award winning programs from 2014. IIE will present this year's awards at a ceremony in New York City on March 14 as part of its ninth annual Best Practices in Internationalization Conference for campus professionals. More than 150 campus leaders and international education professionals in the United States are expected to attend.
About Franklin University
Founded in 1902, Franklin University is one of the leading and most experienced educators of adult students. Annually, nearly 10,000 students attend Franklin, through its Main Campus in downtown Columbus, Ohio, three Central Ohio locations, regional locations in Beavercreek, Ohio and Indianapolis, as well as at five co-locations across Ohio, in addition to online. Franklin offers more than 40 undergraduate and graduate programs (including the new Risk Management and Insurance undergraduate major available this Fall) and graduates more than 1,500 students annually. The University's MBA program is offered internationally through agreements with institutions in Europe and the Middle East. Further information regarding Franklin University can be found at http://www.franklin.edu.
Franklin University is accredited by The Higher Learning Commission (HLC), the International Assembly for Collegiate Business Education (IACBE), and the Commission on Collegiate Nursing Education (CCNE).