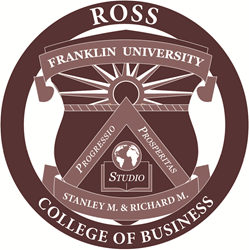 Columbus, OH (PRWEB) July 09, 2015
Franklin University, a leading educator of working adults, is pleased to announce the addition of its new Logistics Management major to the Ross College of Business offerings beginning in Fall 2015.
Logistics professionals keep things moving. More than getting items from Point A to Point B, effective logistics planning improves company performance by ensuring that items reach their destination efficiently. Reducing time and unnecessary expense, and decreasing the carbon footprint of the supply chain are all part of an intricate puzzle you'll master as part of the study of logistics.
With Franklin University's transfer-friendly, degree completion Logistics Management major, students will gain the theoretical foundation and practical know-how to develop an efficient supply chain. By learning how to evaluate critical variables like distance, time and environmental factors, students become an asset in helping to get products to market.
Program curriculum provides current-thinking about supply chain growth, cost control, purchasing and inventory management. Students will become well acquainted with green policies and how to reduce fuel consumption and costs to help grow an efficient and responsible supply chain. Franklin's Logistics Management students will develop their professional toolkit with solid skills in demand planning and forecasting, planning and procurement, supply chain optimization, strategic sourcing, transportation and logistics, as well as materials and inventory management.
Students can transfer up to 20 hours of prior-learning credit for certifications, licensures, on-the-job training, and previously earned college credits allowing them to get credit for what they already know so they can earn their degree faster and lower their tuition costs.
A sampling of careers are available to graduates of the Logistics Management major include logistics manager, warehouse manager, supply chain manager, inventory manager or scheduler.
For more information visit our Logistics Management - Bachelor of Science Degree page at http://www.franklin.edu/logistics-management-degree-program
About Franklin University
Founded in 1902, Franklin University is one of the leading and most experienced educators of adult students. Annually, nearly 10,000 students attend Franklin, through its Main Campus in downtown Columbus, Ohio, three Central Ohio locations, a regional locations in Beavercreek, Ohio and at co-locations across Ohio, indiana, Pennsylvania and Wisconsin, in addition to online. Franklin offers more than 40 undergraduate and graduate programs (including the new Certificate in Criminal Justice and Logistics Management major available this Fall) and graduates more than 1,500 students annually. The University's MBA program is offered internationally through agreements with institutions in Europe and the Middle East. Further information regarding Franklin University can be found at http://www.franklin.edu.