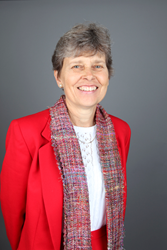 Columbus, OH (PRWEB) January 29, 2015
During its regularly scheduled January Annual Meeting of the Membership, Franklin University's Board of Trustees unanimously elected Mary Laird Duchi as its new chair person. Duchi replaces Gary L. Flynn, who served as Board Chair for the past term.
Duchi has extensive background in both the private and public sectors. She joined Battelle in 1977 and retired from the organization 34 years later as the Vice President of Operations and Systems Services. She has volunteered her time toward both professional and personal interests by serving as Board member for the Battelle National Biodefense Institute; as a Franklin Park Conservatory Trustee; as a board member for both the Central Ohio Regional Science and Engineering Fair and Edison Welding Institute boards; and on a number of committees and boards for the city of Upper Arlington.
Duchi earned her MBA in Finance and Quantitative Methods from The Ohio State University and her BBA in Finance from the University of Michigan.
During the January meeting, the Board also elected Bruce Hagan as Vice Chairman. Hagen is the President of OhioHealth Marion General Hospital. With more than 30 years of experience in the healthcare industry, Hagen is also a fellow in the American College of Health Care Executives, and has been affiliated with many community service programs including the Board of Directors of the Grand Rapids Community College Foundation and the Board of Directors of the Gerald R. Ford Council of Boy Scouts.
Hagen currently serves as the Chair of the Academic/Student Committee as well as serves on the Partnerships Committee, and the Audit, Controls and Compliance Committee.
Carl Johnson is Secretary for the Franklin University Board of Trustees. Mr. Johnson has more than 25 years' experience in manufacturing and supply chain management, and serves as Director of Manufacturing, North America Automotive Aftermarket for Pittsburg, Paint & Glass (PPG). Mr. Johnson holds a BS in Mechanical Engineering from Prairie View A&M University (TX), and serves on numerous boards, including Recreation Unlimited and the Delaware County Red Cross. Mr. Johnson serves on the Finance Committee and the Partnerships Committee.
The Franklin Board of Trustees governs the University utilizing leadership comprised of respected business and community leaders. Members of the University's Board apply their extensive business and professional experience to help guide the direction of the University and help it effectively adapt to anticipated changes in society and the business community.
Other Board members include: Jack Cartner, Jamie Crane, Jo Ann Davidson, Sue Doody, Phil Fankhauser, Gary Flynn, Ted Ford, Anthony Gonsalves, Eugene Griffin, Melissa Gutierrez, Gary James, Floyd Jones, Cindy Keitch, Gregory Lashutka, Stan Partlow, Clarke Price, Peter Roche, Ralph Sanese, Pam Springer, and Carole Watkins.
About Franklin University
Founded in 1902, Franklin University is one of the leading and most experienced educators of adult students. Annually, nearly 10,000 students attend Franklin, through its Main Campus in downtown Columbus, Ohio, three Central Ohio locations, regional locations in Beavercreek, Ohio and Indianapolis, as well as at five co-locations across Ohio, in addition to online. Franklin offers more than 40 undergraduate and graduate programs (including the Social Sciences and Entrepreneurship Bachelor of Science programs) and graduates more than 1,500 students annually. The University's MBA program is offered internationally through agreements with institutions in Europe and the Middle East. Further information regarding Franklin University can be found at http://www.franklin.edu.
Franklin University is accredited by The Higher Learning Commission (HLC), the International Assembly for Collegiate Business Education (IACBE), and the Commission on Collegiate Nursing Education (CCNE).