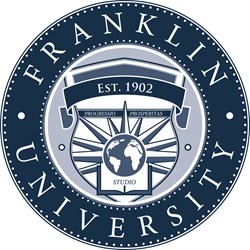 This award is just our small way to say - thank you for your service to our countr. - Paul Otte.
Columbus, OH (PRWEB) February 03, 2014
Franklin University, a leader in educating working adults, is proud to announce the Corporal Otte Marine Completion Scholarship. Named for Paul J. Otte, Franklin's previous president, the scholarship was originally established in 2007 by the Board of Trustees, in appreciation of his more than 20 years of leadership working to fulfill the needs of the University's students.
Today, nearly a decade later, the scholarship is being transformed to more accurately align Otte's service to Franklin and the military, with the University's mission. A Marine himself, the Corporal Otte Marine Completion Scholarship will provide for active duty, reservists, and honorably discharged military students to receive a scholarship, upon graduation from Franklin University.
"As someone who didn't attend college until after serving in the Marine Corps, I know how completing a college degree can change your life. This award is just our small way to say - thank you for your service to our country," said Paul Otte. We hope it will set the example that others will follow - to provide funding for awards not only for Marines, but for all who have served."
The scholarship award is granted at the completion of the applicant's degree coursework and can be awarded more than once if the applicant returns to Franklin to earn an additional degree. Applicants wounded in the line of duty are eligible for additional funding.
Today's announcement compliments the University's commitment to serving the needs of its military students. As a 2014 Military Friendly Schools designee by GI Jobs Magazine and Military Advanced Education, Franklin values the service its military students give to our country and are honored to serve their educational needs.
For those who would like to join in helping to ensure all eligible students can take advantage of this scholarship, contributions may be sent to: Franklin University, Corporal Otte Marine Completion Scholarship Fund, Advancement Office, 201 S. Grant Avenue, Columbus, OH 43215.
For more information about this and other scholarships, please visit our website at http://www.franklin.edu.
About Franklin University
Founded in 1902, Franklin University is one of the leading and most experienced educators of adult students. Annually, nearly 10,000 students attend Franklin, through its Main Campus in downtown Columbus, Ohio, three Central Ohio locations, regional locations in Beavercreek, Ohio and Indianapolis, as well as at five co-locations across Ohio, in addition to online. Franklin offers more than 40 undergraduate and graduate programs (including the new Risk Management and Insurance undergraduate major) and graduates more than 1,500 students annually. The University's MBA program is offered internationally through agreements with institutions in Europe and the Middle East. Further information regarding Franklin University can be found at http://www.franklin.edu.
Franklin University is accredited by The Higher Learning Commission (HLC), the International Assembly for Collegiate Business Education (IACBE), and the Commission on Collegiate Nursing Education (CCNE).