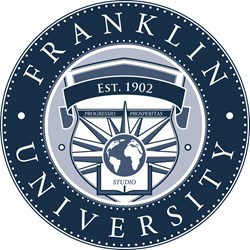 Columbus, OH (PRWEB) September 10, 2013
Franklin University, one of the leading educators of working adults in central Ohio, celebrated its 144th Commencement on Sunday, Sept. 8. Along with honoring the graduates, Franklin recognized Wendy Neaville and Dr. Souren Soumbatiants from its faculty as recipients of the distinguished Robert L. Bailey Teaching Award.
Congratulations to this trimester's recipients: Wendy Neaville and Dr. Souren Soumbatiants.
Wendy Neaville has been a Statistics instructor at Franklin since 2006, teaching both face-to-face and online classes. Bringing a strong background of textbook knowledge and professional business experience to the classroom, she also taught Statistics and Algebra at Park College while serving in the U.S. Air Force from 1995-2003. She earned her B.S. in Operations Research from the U.S. Air Force Academy in 1992 and her M.S. in Industrial Engineering from Texas A&M University in 1993. She has also worked as a business analyst for Limited Brands, applying her engineering and statistical skills in a variety of business-related settings.
Student Nomination:
"Online statistics can be a little intimidating. Professor Neaville was great at guiding us through the course, excellent at communicating, and great at giving us examples of how we might use the information in a practical setting. She was also very good at giving examples of real life information we are more likely to come across. Overall, she was the best professor I had while at Franklin...I have never had a professor who was so caring and really made you believe in yourself and actually wanted to help you succeed."
Dr. Souren Soumbatiants joined Franklin University in 2007 and currently serves as Chair of Business Economics and Lead Faculty for the Managerial Economics course in Franklin's MBA Program. He holds a B.S. in Applied Mathematics from Moscow State University, an M.S. in Applied Mathematics from the University of Texas at Dallas, as well as a Master of International Business Studies (MIBS) and a Ph. D. in Economics, both from the University of South Carolina. Having lived and worked in Russia, Cyprus, and the U.S.A., Souren is a strong advocate of diversity and supports the importance of cooperation in the global marketplace. His teaching style is centered on student activities and applying a behavioral economics approach. His research interests are broad, varying from industrial organization and international economics to neuroeconomics and public choice.
Student Nomination:
"Dr. Soumbatiants was always well-prepared. His classes were instructive and inspiring. They were not boring, because he tried to focus our attention on very interesting economic areas. He used lectures, but he also used games and workshops to explain economic phenomenona. He was a very committed teacher."
About the Robert L. Bailey Teaching Award
Each trimester, two faculty members are honored with the Robert L. Bailey Teaching Award. Graduating students are asked to identify one undergraduate and one graduate faculty member who had the most significant influence on them throughout their educational experience at Franklin University. The award recognizes those who have challenged students intellectually and guided them in finding the significance of the course content as it relates to them both personally and professionally.
While more than 100 graduate and undergraduate faculty members are nominated each trimester – demonstrating the magnitude of interaction between students and faculty at Franklin University – the faculty members receiving the most nominations are awarded this honor.
These awards are funded through an endowment established by State Auto Insurance Companies in recognition of Robert L. Bailey, who served State Auto for 28 years in various positions, including President, CEO, and Chairman, until his retirement in 2000. Bailey is also a past Chair and a Trustee Emeritus of Franklin University's Board of Trustees.
About Franklin University
Founded in 1902, Franklin University is one of the leading and most experienced educators of adult students. Annually, nearly 10,000 students attend Franklin, through its Main Campus in downtown Columbus, Ohio, three Central Ohio locations, regional locations in Beavercreek, Ohio and Indianapolis, as well as at five co-locations across Ohio, in addition to online. Franklin offers more than 40 undergraduate and graduate programs (including the new Risk Management and Insurance undergraduate major available this Fall) and graduates more than 1,500 students annually. The University's MBA program is offered internationally through agreements with institutions in Europe and the Middle East. Further information regarding Franklin University can be found at http://www.franklin.edu.
Franklin University is accredited by The Higher Learning Commission (HLC), the International Assembly for Collegiate Business Education (IACBE), and the Commission on Collegiate Nursing Education (CCNE).
Tour Franklin University through our new virtual tour.