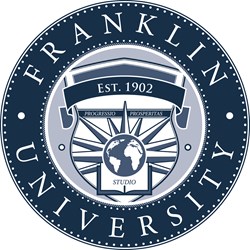 Columbus, OH (PRWEB) January 23, 2014
Franklin University announces the creation of its International Institute for Innovative Instruction ("the Institute"). Capitalizing on the University's curriculum design and faculty expertise, the Institute physically and intellectually integrates all of Franklin's design-related functions and design-related academic programs under one roof, located at 236 E. Town Street.
The Institute will be directed by Dr. Barbara Fennema, Dean, and Dr. Lou Anne Manning, Executive Director. Under their leadership, the Institute will employ innovative design practices that solidify its standing in the academic community as a leader in the design of interactive, engaging, learning experiences for diverse learner populations around the world.
By integrating Franklin's curriculum and faculty design capacities, the University's unique depth and quality of instructional design resources can be engaged in ways which create the optimal conditions for academic partnerships. This optimization will be accomplished through the expertise of Franklin's highly experienced and credentialed design professionals, a sophisticated methodology and technological infrastructure and two outstanding academic programs related to the design field, that have combined to make Franklin University a sought after source for curriculum design.
Curriculum design requirements of the University's academic and strategic partners will be supported by the Institute through the utilization of the latest technology to create optimum learning environments; creation of authentic, relevant, theory-to-practice learning experiences; and development and delivery of media-rich tutorials, workshops, and courses that support effective teaching and learning; as well as assist faculty with assessment using advanced methodologies.
By creating customized curriculum which meets the needs of a diverse population, the Institute will allow Franklin University to continue its advancement in academic research and scholarship in the field of design.
About Franklin University
Founded in 1902, Franklin University is one of the leading and most experienced educators of adult students. Annually, nearly 10,000 students attend Franklin, through its Main Campus in downtown Columbus, Ohio, three Central Ohio locations, regional locations in Beavercreek, Ohio and Indianapolis, as well as at five co-locations across Ohio, in addition to online. Franklin offers more than 40 undergraduate and graduate programs (including the new Risk Management and Insurance undergraduate major) and graduates more than 1,500 students annually. The University's MBA program is offered internationally through agreements with institutions in Europe and the Middle East. Further information regarding Franklin University can be found at http://www.franklin.edu.
Franklin University is accredited by The Higher Learning Commission (HLC), the International Assembly for Collegiate Business Education (IACBE), and the Commission on Collegiate Nursing Education (CCNE).