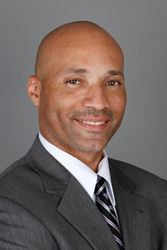 Columbus, OH (PRWEB) February 10, 2015
Franklin University, one of the leading educators of working adults, is proud to announce that Dr. Christopher Washington, Provost & Senior Vice President for Academic Affairs, has been selected for the Fulbright Specialist Program Roster. The program, coordinated by the U.S. Department of State's Bureau of Educational and Cultural Affairs (ECA) and the Institute of International Education's Council for International Exchange of Scholars (CIES), provides grant opportunities to Fulbright Specialists.
Fulbright Specialists are consultants with expertise in their academic discipline, who collaborate on projects in diverse settings of higher education in a wide range of eligible disciplines and fields. The program promotes relationships between U.S. scholars and professionals and their counterparts at host institutions overseas. The specialist program awards grants for short-term collaborative projects at institutions in over 140 countries. Specialists may be requested to provide academic services, such as short-term lecturing, conducting seminars, teacher training, assessments and evaluations, special conferences or workshops, as well as collaborating on faculty development and curriculum or institutional planning.
Dr. Christopher Washington serves as the Provost and Senior Vice President for Academic Affairs for Franklin University, a private, nonprofit institution of higher education enabling the broadest possible community of learners to achieve their goals and enrich the world. Working with his cabinet and colleagues, Dr. Washington promotes student success through a variety of instructional approaches, academic resources, and learning support services.
Active in the higher education community, Dr. Washington serves as a Consultant Evaluator for the Higher Learning Commission and on committees for the Ohio Board of Regents. He is actively engaged in the international education community, and facilitates relationships with partnering universities in Poland, Slovakia, Ukraine, Macedonia, Oman, Nepal, Guatemala and El Salvador. He currently serves on the Board of the International Visitors Council, an organization that works to build partnerships between American citizens and citizens of other countries, promote democratic ideals, encourage economic development and promote cultural understanding through the exchange of knowledge and ideas. He is the Vice Chair of the Education Committee of the Columbus Council on World Affairs, He serves on the Research Council of the Poznan School of Banking Research Journal and the journal Studies in Management and Finance.
As an advocate for Workforce Development, Dr. Washington presently serves on the Board of the Central Ohio Workforce Investment Corporation (COWIC), an organization whose mission is to meet the employment needs of business and job seekers to support economic development in Ohio.
"I'm honored to be selected to represent the Unites States and Franklin University in such an altruistic approach to improving education across the globe," stated Dr. Washington. "I am a strong believer that through the sharing of our individual expertise through programs like the Fulbright Roster, we create a collective knowledge that allows for the improvement of the broadest possible community of learners to succeed."
To be considered for the Fulbright Specialist Program, the U.S. scholar must possess advanced academic expertise beyond teaching and research. U.S. faculty and professionals applications are reviewed by peers in their discipline and by the J. William Fulbright Foreign Scholarship Board (FFSB), who then make their recommendation.
The Fulbright Program was established in 1946 under legislation introduced by then-Senator J. William Fulbright of Arkansas. The U.S. Department of State's Bureau of Educational and Cultural Affairs sponsor the Fulbright Program. The Fulbright Program awards approximately 8,000 grants annually. Roughly 1,600 U.S. students, 4,000 foreign students, 1,200 U.S. scholars, and 900 visiting scholars receive awards, in addition to several hundred teachers and professionals. Currently, the Fulbright Program operates in over 155 countries worldwide.
About Franklin University
Founded in 1902, Franklin University is one of the leading and most experienced educators of adult students. Annually, nearly 10,000 students attend Franklin, through its Main Campus in downtown Columbus, Ohio, three Central Ohio locations, regional locations in Beavercreek, Ohio and Indianapolis, as well as at five co-locations across Ohio, in addition to online. Franklin offers more than 40 undergraduate and graduate programs (including the Social Sciences and Entrepreneurship Bachelor of Science programs) and graduates more than 1,500 students annually. The University's MBA program is offered internationally through agreements with institutions in Europe and the Middle East. Further information regarding Franklin University can be found at http://www.franklin.edu.
Franklin University is accredited by The Higher Learning Commission (HLC), the International Assembly for Collegiate Business Education (IACBE), and the Commission on Collegiate Nursing Education (CCNE).