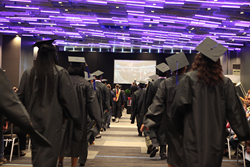 Columbus, OH (PRWEB) May 15, 2015
Franklin University, one of the leading educators of working adults, will hold its 149th Commencement Ceremony on Friday, May 22, 2015, during which more than 600 degree candidates will receive their diplomas. The commencement ceremony will take place at The Greater Columbus Convention Center, 400 N. High St. in downtown Columbus.
Robert J. Massie, former president of Chemical Abstracts Service (CAS) from 1992 until his retirement in 2014, will make the keynote address. CAS is the global leader in chemical information, offering indispensable research tools to pharmaceutical, chemical and life science companies, as well as universities and patent offices around the world. Prior to his appointment, Massie was president and CEO of Gale Research, Inc., the leading U.S. general reference publisher serving libraries, schools and businesses. In the early and mid-1980s, he held senior executive positions with Torstar Corporation, the largest newspaper and book publishing company in Canada. Prior to that, he was a management consultant with McKinsey & Co. in New York, where his clients included G.E. and the New York Times Company. Massie began his career as an attorney with the firm of Covington & Burling in Washington, D.C., specializing in international transactions and food and drug law.
Massie has been a member of numerous civic organizations in Columbus, including serving on the boards of the Columbus Chamber of Commerce, COSI and the Columbus Symphony. He has also served on the boards of Nationwide Children's Hospital and the Columbus School for Girls. He chaired the board of the Columbus Technology Leadership Council and was one of the founding chairs of TechColumbus. He was also chairman of the operating board of the James Cancer Hospital and Solove Research Institute.
The recipient of many awards and recognitions, Massie has authored a number of papers and has been a frequent speaker to industry and community groups on the subject of scientific research in the digital age. Massie holds a joint JD/MBA degree from Columbia University, where he was a Harlan Fiske Stone scholar; he is an honors graduate (BA) of Yale College.
Also addressing the graduates will be Farha Al Adawi, graduating student speaker receiving her MBA.
Farha Al Adawi currently serves as compensation and benefits analyst at Petroleum Development Oman where she handles issues related to compensation and benefits for more than 7,000 employees. Farha has been in this field for six years and finds that Franklin's MBA curriculum has sharpened her understanding of global business challenges and improved her problem-solving and analytical skills. She has been able to relate her learning directly to her position and found it has enhanced her productivity and efficiency on the job.
A resident of Oman, Farha earned her bachelor's degree from the University of Massachusetts. She is joined today by many Omani classmates from her Franklin MBA cohort at the Modern College of Business and Science in Muscat, Oman. the University of Dayton. Prior to working for the state, she worked for a private, not-for-profit community corrections agency. A Certified Public Manager and a Six Sigma yellow belt, she also sits on the Council Board for the central Ohio chapter of the American Society of Public Administrators.
About Franklin University
Founded in 1902, Franklin University is one of the leading and most experienced educators of adult students. Annually, nearly 10,000 students attend Franklin, through its Main Campus in downtown Columbus, Ohio, three Central Ohio locations and Beavercreek, Ohio, as well as at co-locations across Ohio, Inidiana, Pennsylvania and Wisconson, in addition to online. Franklin offers more than 40 undergraduate and graduate programs (including the new Social Sciences and Entrepreneurship Bachelor of Science programs) and graduates more than 1,500 students annually. The University's MBA program is offered internationally through agreements with institutions in Europe and the Middle East. Further information regarding Franklin University can be found at http://www.franklin.edu.
Franklin University is accredited by The Higher Learning Commission (HLC), the International Assembly for Collegiate Business Education (IACBE), and the Commission on Collegiate Nursing Education (CCNE).