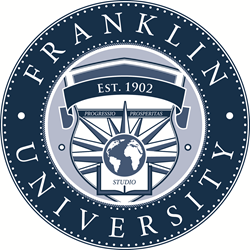 Columbus, OH (PRWEB) June 08, 2015
Franklin University, one of the leading educators of working adults in central Ohio, celebrated its 149th Commencement on Friday, May 22. Along with honoring the graduates, Franklin recognized Abdy Barharlou and Douglas Ruml from its faculty as recipients of the distinguished Robert L. Bailey Teaching Award.
Congratulations to this trimester's recipients: Abdy Barharlou, Undergraduate Faculty and Douglas Ruml, MBA Faculty.
Abdy Barharlou has been an adjunct professor at Franklin University since 2011, and regularly teaches supply chain management, and purchasing and inventory management. Professor Barharlou has 30 years of experience in various aspects of engineering and operations – a majority of which has been spent with AT&T and Alcatel-Lucent.
Barharlou, who earned his bachelor's and master's degrees from The Ohio State University, believes in engaging students early in the learning process, taking a genuine interest in their successes and understanding their expectations for the class. He invests significant time to provide feedback to help students to stay the course and he encourages them by continuously acknowledging their improvements.
Student Nomination:
Professor Baharlou seemed genuinely interested in seeing his students succeed in his class and learn as much as possible about supply chain management. He responded to all questions promptly and was always very courteous in his response. He went out of his way to take the distance out of "distance learning."
Douglas Ruml has served as an adjunct professor in the MBA program at Franklin University since 2007. Professor Ruml began his career as a reinsurance broker in New York, where he created the first computer-based natural catastrophe models in house for a major reinsurance intermediary. In the 1990s he was a co-founder and North American CFO of a British public software corporation. Most recently, he was an equity partner at a Columbus-area boutique professional liability insurance firm, where he ran marketing and the quality control program.
A Certified Financial Manager, Ruml holds degrees from Ambassador University and the California State University. He is currently working on his doctoral dissertation in Finance at Northcentral University.
Student Nomination:
Professor Ruml has been a great inspiration in and out of the classroom. His input has helped me reevaluate my critical thinking process. He is good at his subject and very attentive to his students' strengths and weaknesses. He made accounting/finance a fun experience and went out of his way to make people connect with accounting/finance, which is a hard thing to do.
About the Robert L. Bailey Teaching Award
Each trimester, two faculty members are honored with the Robert L. Bailey Teaching Award. Graduating students are asked to identify one undergraduate and one graduate faculty member who had the most significant influence on them throughout their educational experience at Franklin University. The award recognizes those who have challenged students intellectually and guided them in finding the significance of the course content as it relates to them both personally and professionally.
While more than 100 graduate and undergraduate faculty members are nominated each trimester – clearly showing the magnitude of interaction between students and faculty at Franklin University – the faculty members receiving the most nominations are awarded this honor.
These awards are funded through an endowment established by State Auto Insurance Companies in recognition of Robert L. Bailey, who served State Auto for 28 years in various positions, including President, CEO, and Chairman, until his retirement in 2000. Bailey is also a past Chair and a Trustee Emeritus of Franklin University's Board of Trustees.
About Franklin University
Founded in 1902, Franklin University is one of the leading and most experienced educators of adult students. Annually, nearly 10,000 students attend Franklin, through its Main Campus in downtown Columbus, Ohio, three Central Ohio locations, regional locations in Beavercreek, Ohio and Indianapolis, as well as at five co-locations across Ohio, in addition to online. Franklin offers more than 40 undergraduate and graduate programs (including the new Social Sciences and Entrepreneurship Bachelor of Science programs) and graduates more than 1,500 students annually. The University's MBA program is offered internationally through agreements with institutions in Europe and the Middle East. Further information regarding Franklin University can be found at http://www.franklin.edu.
Franklin University is accredited by The Higher Learning Commission (HLC), the International Assembly for Collegiate Business Education (IACBE), and the Commission on Collegiate Nursing Education (CCNE).