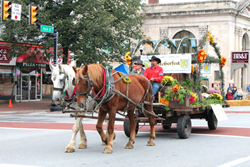 Franklin County Visitors Bureau Recommends Renfrew Museum and Park's Oktoberfest
Waynesboro PA (PRWEB) September 30, 2018
Explore Franklin County PA and enjoy Renfrew Museum and Park 3rd Annual Oktoberfest on October 6. It will be held on October 6 in the Main Street Park, 25 East Main Street, Waynesboro. Doors open at 3 pm and the event will be held from 4 pm to 9 pm.
Oktoberfest is Renfrew's largest fundraiser of the year and the last two years we have hosted sell out crowds. This year the Main Street Park will allow us to welcome even more guests to our fundraiser. Guest must be at least 21 years of age to enter and guests will be carded at the door. Tickets are on sale and are $40 per person until September 15 and will be September 16 the price will go up to $50 per person. The first 250 people to purchase tickets will receive a 2018 commemorative Oktoberfest beer mug.
A beautifully decorated wagon will deliver the kegs to the front of the Main Street Park at 4 pm where the mayor will tap the keg, it will be carried into the venue and Oktoberfest will kick off its evening of fun and entertainment. Guests are asked to use the main street entrance to receive wristbands. The first 250 ticket purchasers will receive commemorative mugs.
A buffet style dinner consisting of German Fare and a specially crafted beer will be offered in addition to live entertainment performed by the Die Shippensburg Blaskapelle German Band. Auctions will run throughout the evening and games of heads and tails will be played. Guests will be invited to partake in signing popular songs such as Sweet Caroline and Country Roads. Dining tables will be set up under a tent and high-top tables will be set around so that guests can walk around and stop to socialize during the evening.
Over the last two years, Oktoberfest raised more than $22,000 for Renfrew Museum and Park.
For event and ticket information please call the Visitors Center 717-762-4723 or visit [http://www.renfrewmuseum.org.