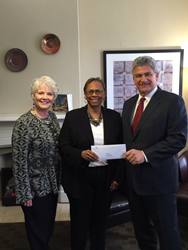 Columbus, OH (PRWEB) April 01, 2015
Franklin University, one of the leading educators of working adults, is proud to announce the establishment of the Greta J. Russell Medical Mutual of Ohio Scholarship. The scholarship is made possible through the generous gift of $100,000 from Medical Mutual of Ohio. Ms. Russell presented the gift on behalf of Medical Mutual to University representatives, Dr. David Decker, President, and Bonnie Quist, Vice President of Advancement & Strategic Relations.
"We are grateful to Medical Mutual of Ohio and Greta Russell for helping provide the opportunity to help meet the needs of adult students who have the ambition to continue their education in combination with other responsibilities," said Dr. Decker. "It is a gift like this that demonstrates how business and higher education can work together to provide a quality education to students who want to make a difference."
Russell recently received an Honorary Doctorate from Franklin University, is a member of the boards of Medical Mutual of Ohio and of the Columbus-Franklin County Finance Authority. She recently completed a seven-year term on the Accountancy Board of Ohio, is national president of the Circle-Lets, Inc., and is a lifetime member of the National Association of Black Accountants, Inc., for which she served two terms as the national president. She was formerly the comptroller for the Ohio State Treasurer's Office, and recently retired as the controller for The Ohio State University.
Medical Mutual of Ohio established this scholarship in honor and recognition of Ms. Russell's many contributions to our local and national community. The Greta J. Russell Medical Mutual of Ohio Scholarship is designed to financially assist those undergraduate and graduate students pursuing an Interactive Field Experience course, focusing on a research project to address a problem, dilemma, or issue in their community or the broader society.
About Medical Mutual of Ohio
Founded in 1934, Medical Mutual of Ohio is the oldest and largest health insurance company based in Ohio. For more than 80 years, the company has served customers with high-quality, affordable group and personal health insurance plans, and third-party administrative services to self-insured group customers. As a mutual health insurance company, Medical Mutual is unique in that it operates for the benefit of its members. Unlike publicly-traded insurance companies that must maximize their financial return, Medical Mutual does not answer to stockholders or Wall Street analysts. For more information, visit the company's award-winning Web site at MedMutual.com.
About Franklin University
Founded in 1902, Franklin University is one of the leading and most experienced educators of adult students. Annually, nearly 10,000 students attend Franklin, through its Main Campus in downtown Columbus, Ohio, three Central Ohio locations, regional locations in Beavercreek, Ohio and Indianapolis, as well as at numerous co-locations across Ohio, in addition to online. Franklin offers more than 40 undergraduate and graduate programs (including the Social Sciences and Entrepreneurship Bachelor of Science programs) and graduates more than 1,500 students annually. The University's MBA program is offered internationally through agreements with institutions in Europe and the Middle East. Further information regarding Franklin University can be found at http://www.franklin.edu.
Franklin University is accredited by The Higher Learning Commission (HLC), the International Assembly for Collegiate Business Education (IACBE), and the Commission on Collegiate Nursing Education (CCNE).
###