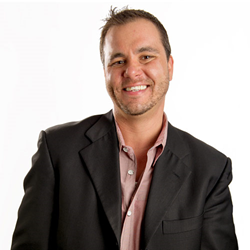 Rochester, New York (PRWEB) April 09, 2014
Frank Magnera, an award-winning business-to-business marketing expert and account director at Catalyst (Rochester, New York), has been chosen to judge the 2014 Business Marketing Association (BMA) B2 Awards. The awards will be presented in Chicago at an evening reception on May 27, before BMA14 debuts May 28-30. The annual BMA conference is the largest B2B conference in the country, attracting around 1,000 marketers from over 400 companies.
The B2 Awards recognize and honor business marketers for innovative global brand strategy, customer marketing strategy, integrated internal and external marketing communications strategy, e-business strategy, new media strategy, and successful new product and service introductions.
Magnera has developed B2B programs for Catalyst since 2005, specializing in strategy development and customer relationship management. He brings a broad range of expertise to the B2 Awards, including predictive analytics, Web analytics, lead generation and prospect nurturing, email marketing, creative development, search engine marketing (SEM), search engine optimization (SEO), non-profit marketing, and copywriting. His clients have included Eastman Kodak Company, Heraeus Kulzer, ITT, Kodak Alaris, Pitney Bowes, Weyerhaeuser, Carestream Health, and Xeikon, among others.
For more information about BMA 2014, visit http://www.bma2014.com/.
About Catalyst
Catalyst (http://www.catalystinc.com) is a direct and digital marketing agency that helps clients acquire, retain and develop long-term relationships with their customers. We combine intellectual curiosity and inquisitiveness with hard-core analytics, deep customer insight and a measurement mindset to take the guesswork out of marketing decisions. We call it Science + Soul. Headquartered in Rochester, NY, our clients include AAA, Bell & Howell, Eastman Kodak Company, First Niagara Financial Group, Heraeus Kulzer, Kodak Alaris, TTI Floor Care North America,Valvoline, and Xeikon, among others.
Follow us on:
Facebook: http://www.facebook.com/scienceplussoul
Twitter: http://twitter.com/scienceplussoul/
LinkedIn: http://www.linkedin.com/company/26721