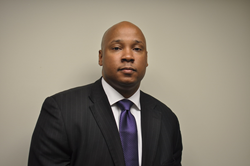 My goal will be simple: Give the graduates a formula for putting actions behind their life plans.
Pittsburgh, PA (PRWEB) May 19, 2016
Attorney Frank Walker, founder of Frank Walker Law, was recently asked to give the commencement speech at his high school alma mater, South Charleston High School, at 10 a.m. on Saturday, May 21, 2016 at the Charleston Civic Center in Charleston, West Virginia. "Out of all the possible people that could have been selected, I was honored to be included in the consideration, and was surprised to be selected," said Walker. "It is a privilege to speak at the graduation ceremony and I'm very much looking forward to the opportunity. My goal will be simple: Give the graduates a formula for putting actions behind their life plans."
Born and raised in Institute, West Virginia, attorney Walker attended South Charleston High School from 1991-1994 and graduated in June of 1994. After high school, he attended West Virginia State College and graduated with a Bachelors of Science Degree in Criminal Justice in 1998. He later graduated from Marshall University Graduate College in 1999 with a Masters of Arts Degree in Education/Leadership Studies and West Virginia University College of Law with a Juris Doctorate degree in 2003.
South Charleston High School, a public high school for grades 9 through 12, is located south of the Kanawha River, west of the city of Charleston, in the city of South Charleston's Spring Hill neighborhood. The school mascot is the Black Eagle and the enrollment is approximately 1,200 students. SCHS is a Class AAA school, which is the highest enrollment classification of high school sports in West Virginia. South Charleston is one of only a few schools in the state of West Virginia that has been in existence for more than 75 years.
About Frank Walker, Frank Walker Law
Frank Walker is one of the most sought after criminal defense attorneys in Western Pennsylvania and Northern West Virginia, due to his reputation for real talk, real experience and real results. He is known and respected as a fearless criminal defense attorney who is ready, willing and able to zealously defend the rights afforded in the Constitution of the United States. For more information, please call (412) 532-6805, or visit http://www.frankwalkerlaw.com. The law office is located at 428 Forbes Avenue, Suite 1800, Pittsburgh, PA 15219.
About the NALA™
The NALA offers small and medium-sized businesses effective ways to reach customers through new media. As a single-agency source, the NALA helps businesses flourish in their local community. The NALA's mission is to promote a business' relevant and newsworthy events and achievements, both online and through traditional media. For media inquiries, please call 805.650.6121, ext. 361.