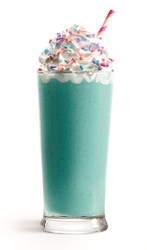 Today, adults aren't the only ones looking for frappes, and a fun frozen beverage menu is a great way to start delighting the youngest of customers
Beloit, Wis. (PRWEB) June 09, 2015
To help café owners and foodservice operators looking to appeal to their younger customers, Big Train® introduces two new flavors of Kidz Kreamz® frappe mixes: Wild Berry Burst and Banana Splitastic.
According to Nation's Restaurant News, the majority of Millennial parents allow their kids to lead or play a large role in the dining-out decision[1]. This means innovative menu items created specifically for kids are necessary additions if operators want to create a destination for the whole family.
"Today, adults aren't the only ones looking for frappes, and a fun frozen beverage menu is a great way to start delighting the youngest of customers," said Katie Fordonski, brand manager for Kerry Foodservice Beverage Brands. "Our new Kidz Kreamz mixes feature flavors that will wow kids' taste buds with the added bonus of wholesome yogurt — making it easy to transform a café or restaurant into a delicious beverage destination for the whole family."
The new Wild Berry Burst variety features a fun, fruit medley of raspberries, strawberries and blueberries for fresh-picked taste, while the new Banana Splitastic option blends rich, nostalgic ice cream shop flavors such of banana, caramel and vanilla custard into one sippable beverage. Made with real yogurt for a good source of calcium, these kid-friendly drinks are a low-fat, caffeine-free treat parents approve of and kids crave.
Big Train offers frappes for kids in three additional classic flavors including: Bubble Gum, Cotton Candy and Orange Cream. All of these varieties are shelf stable and offer the convenience of one-step preparation. Simply blend with ice and milk or water. Available in single serving packets as well as a 3.5-pound bulk bag.
For more information on Kidz Kreamz frappe mixes, visit bigtrain.com/kids or call 1-800-244-8724. To learn more about building profitable kids' menus, read Kerry's recent Liquid Lowdown article.
About Kerry
Kerry develops, manufactures and delivers innovative taste systems, functional ingredients and integrated solutions for the global food, beverage and pharmaceutical markets. Kerry has more than 30 manufacturing facilities across the United States. Kerry's food and beverage brands include Golden Dipt®, Golden Ladle®, Snowflake® Coconut, Wingers® Hot Sauces, Kerrymaid®, DaVinci Gourmet®, Big Train® and Oregon Chai®.
1- Nation's Restaurant News, "Attract Millennials, Put Their Kids First," Feb. 2015