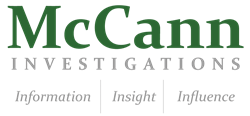 Austin, TX (PRWEB) May 05, 2014
McCann Investigations, a firm focused on providing high-quality digital security and private investigations services throughout Texas, announced that investigators at its Austin branch use detailed background analysis to set up for success in fraud investigations.
Fraud refers to crimes in which a perpetrator deceives another in some way to achieve a financial or personal gain. The first step in these investigations with McCann is to allow the investigators to conduct extensive research into the investigation target's history to uncover any information that could impact the direction they take with the rest of the investigation.
"Performing a thorough background check at the beginning of an investigation is the best way to set us up for success in the rest of the process," said Daniel Weiss, Managing Partner at McCann Investigations. "We want to be sure that we have as much information as possible before we dive into surveillance and digital forensics analysis."
McCann's Austin investigators first sit down with the client to talk about what they know about the investigation target and to get any leads they can about how to proceed directly from the client. Using information in that initial meeting, they can better determine how to approach their background research.
Then, the investigators conduct a thorough analysis of background information such as the target's criminal record, employment history, civil issues, assets or any other information that could help with the investigation. They will also check the target's digital footprint to see if he or she left any evidence behind online or on devices.
"Our investigators have a great deal of experience in this practice area and can be trusted to deliver the highest quality of service at all times," said Weiss. "We encourage anyone who has been affected by fraud in Austin to take advantage of these services."
For more information about the services provided by McCann Investigations in the Austin area, visit the company's website at http://www.mccanninvestigations.com and follow the company on Twitter at @mccangi.
About McCann Investigations
McCann Investigations is a Texas-based private investigations practice focused on comprehensive investigations incorporating digital forensics, surveillance, undercover work and background checks for clients in various case types. Service areas include intellectual property theft, non-compete enforcement, fraud, embezzlement and family law. McCann Investigators are experts in the latest computer forensics tools and are licensed with the state of Texas. McCann examiners have provided expert testimony and reporting in hundreds of cases across the state.