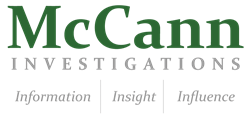 Insurance fraud requires a lot of experience in computer forensics to be able to uncover the evidence needed.
Austin, TX (PRWEB) October 20, 2013
McCann Investigations, a firm in Texas specializing in private investigations and digital security, recently announced that its acclaimed insurance fraud investigation services are now available to clients in the Austin market.
McCann's fraud investigation services are provided by a team of skilled and experienced computer forensic analysts. All of these analysts have significant experience in the realm of insurance fraud investigations.
"Insurance fraud requires a lot of experience in computer forensics to be able to uncover all of the evidence needed," said Daniel Weiss, Managing Partner at McCann Investigations. "We are happy to be able to offer these services to our Austin clients that find themselves in need of insurance fraud investigators."
The definition of insurance fraud is a type of criminal act performed with a clear intent to fraudulently obtain an advantage to which the perpetrator would not typically be entitled. One common example of this is a person who is filing a health insurance claim putting in a claim for more medical coverage than they need.
McCann's Austin-based investigators analyze alleged perpetrators' communications through computers, mobile devices and other forms of digital media to find any existing evidence of fraud. However, there are many channels through which this information must pass, making it a difficult task and making it even more important that organizations hire the most skilled investigators available.
"We pledge that all of our clients will be pleased with the services of our fraud investigatosr," said Weiss. "We encourage anyone in need of representation during their insurance fraud case to come to us and take advantage of our expertise."
For more information about the services provided by McCann Investigations in the Austin area, visit the company's website at http://www.mccanninvestigations.com and follow the company on Twitter at @mccangi.
About McCann Investigations
McCann Investigations is a Texas-based private investigations practice focused on comprehensive investigations incorporating digital forensics, surveillance, undercover work and background checks for clients in various case types. Service areas include intellectual property theft, non-compete enforcement, fraud, embezzlement and family law. McCann Investigators are experts in the latest computer forensics tools and are licensed with the state of Texas. McCann examiners have provided expert testimony and reporting in hundreds of cases across the state.